There is plenty of evidence to suggest that investors are into self-harm: taking wrong-headed decisions that tear chunks out of the returns they might have earned if they weren't so busy chasing performance.
So how good would it be to own a diversified portfolio that takes most of the decision-making out of your hands, without diverting cash into the pocket of some shark-eyed advisor?
Enter the Vanguard LifeStrategy funds. Each fund is a passive investing wrapper that contains a selection of Vanguard's low-cost index funds.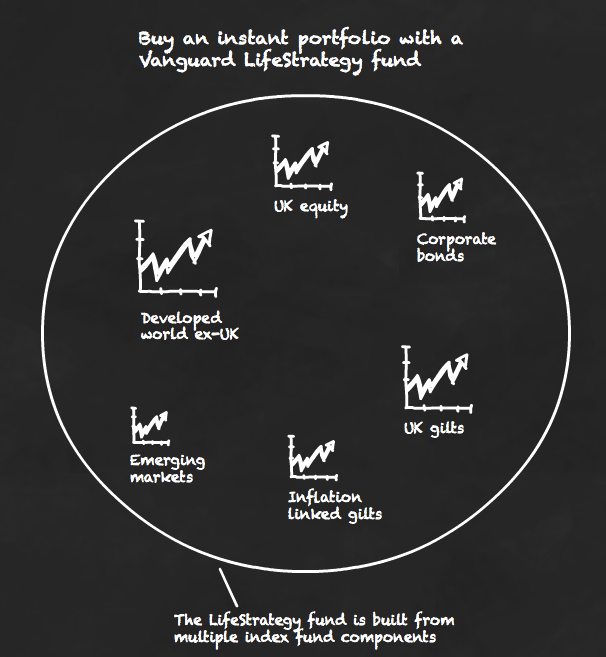 With each LifeStrategy fund you get:
An off-the-shelf portfolio that's ridiculously low maintenance.
A way to drip-feed low monthly contributions into multiple Vanguard funds (at last!)
The funds are categorised according to their equity tilt:
| | | |
| --- | --- | --- |
| Fund name | Equity allocation | Bond allocation |
| LifeStrategy 20% Equity Fund | 20% | 80% |
| LifeStrategy 40% Equity Fund | 40% | 60% |
| LifeStrategy 60% Equity Fund | 60% | 40% |
| LifeStrategy 80% Equity Fund | 80% | 20% |
| LifeStrategy 100% Equity Fund | 100% | 0% |
The headline equity allocation is a rough-and-ready indication of how risky a ride each fund may deliver in the future.
An aggressive investor prepared to bear much stock-market-related pain might pick the LifeStrategy 80% Equity Fund in the pursuit of higher expected rewards.
A more risk-shy individual would be down in 20% territory. Most of their assets would be in less volatile bonds and they would accept lower expected returns over the long-term as the trade-off.
A six pack of funds
An individual LifeStrategy fund is essentially a bumper pack of Vanguard index funds that break down the total investment market into distinct asset classes.
For example, it works like this for the LifeStrategy 60% Equity fund:
| | |
| --- | --- |
| Sub-fund | Allocation |
| UK Government Bond Index | 18.6% |
| UK Investment Grade Bond Index | 13.3% |
| UK Inflation-linked Gilt Index | 8.1% |
| UK Equity Index | 21% |
| FTSE Developed World ex-UK Index | 33.6% |
| MSCI Emerging Markets Stock Index | 5.4% |
The bond allocation is 40%, a figure that's assumed almost default status for DIY investors with a 10-year plus time horizon:
Almost half that 40% bond allocation is taken by an intermediate UK Gilt fund that blends short-term, medium-term and long-term government bonds for an average duration of 9.3.
The 13.3% allocation to corporate bonds is pretty chunky, and can be expected to offer a greater return in exchange for more risk than if you were entirely in gilts.
To round off the bond piece, there's 8.1% in inflation-linked gilts.
The remaining 60% of your assets is split among various equity sub-funds:
The UK equity index tracked is the FTSE All-Share. A 21% allocation provides the home bias that many investors instinctively reach for to insulate against currency risk.
The FTSE Developed World ex-UK index is dominated by large cap stocks in the US, Europe, Japan and the developed Pacific Rim (mostly Australia). There's 33.6% in there.
(Semi) technically speaking, to provide a sort of jangling set of master keys Vanguard has blended together the various FTSE and MSCI indices that govern these sub-funds to create its own so-called LifeStrategy indices. The other LifeStrategy funds maintain proportionally similar holdings between the sub-funds that compose the bond and equity asset allocations, but vary the total bond versus equity mix to juggle risk versus reward.
In broad terms, each LifeStrategy fund captures the main benefits of a globally diversified portfolio, although they are entirely missing refinements such as commodities, property, and small-cap and value shares.
Of course, that's not to say you can't pick up those asset classes elsewhere for yourself once the LifeStrategy fund has got you off to a good start.
Cost control
Unlike at Tesco, Vanguard charge you more for buying in bulk. The annual management charge (AMC) is an average of the underlying funds plus an administrative top-up.
The quoted AMC of the LifeStrategy 60% fund is 0.31%1. That compares to a weighted average TER of 0.23%, if you held the component funds as separates.
But the difference is not a whole hill of beans in the long run, even though I'm obsessed with cutting costs like an axe-wielding Tory Minister.
You'll also pay an upfront cost called a dilution levy. For once, this is a good cost as it's designed to penalise market-timers switching in and out of funds like manic high-frequency traders. The dilution levy is meant to cover the transaction fees incurred by trading, and is paid back into the fund for the benefit of the buy-and-holders.
The biggest hurdle for retail investors using Vanguard funds has always been dealing fees that play havoc with small, drip-fed contributions. But the LifeStrategy route elegantly side-steps the problem by enabling you to invest in an entire Vanguard portfolio for just one dealing fee.
If you buy using Alliance Trust's regular investing scheme, you'll only pay a dealing fee of £1.50. That amounts to an acceptable 0.5% off a £300 monthly contribution.
The big win
For my money, the best thing about the Vanguard LifeStrategy funds is that they minimise the input of hot-headed humans.
Whether directing the flow of new monthly contributions or rebalancing the portfolio, there's always a chance that our febrile brains can muck things up.
How many times have I hankered over gold as it's frothed and bubbled during the last 12 months? Equally, it's not easy to make yourself sell down an over-performing asset just to fit in with your pesky asset allocation.
These LifeStrategy funds provide a ready solution for meddlers. Just set up the direct debit and forget about it. The money flows into the predetermined allocations like water into irrigation channels. Rebalancing happens without you needing to lift a finger and so you've got built-in risk control that offers some measure of protection against the markets and yourself.
Passive investors often style themselves as lazy investors and you'll be hard-pressed to find a lower maintenance option than this at the cost.
I personally don't want to give up that level of control. I've enjoyed the process of working out my own asset allocation, researching my fund choices and tending to my investments. The act of rebalancing keeps me in touch with my portfolio and the market mechanisms that affect it. If I was more hands off I fear I'd lose sight of what I was doing it all for.
But for many people investing is about as much fun as slopping out. So if you want to take the pain away, then take a look at the  Vanguard LifeStrategy funds.
Take it steady,
The Accumulator
The fund doesn't have a TER yet as it's been operating for less than 12 months. However Vanguard's TER and AMC are usually one and the same. [↩]