What caught my eye this week.
I noticed as I compiled today's links that I've a new favourite investing blog. Who Enso Finance is I've not idea (and s/he is in great company there!) but I'm looking forward to their musings each week.
Take the latest post on the limits of diversification:
Most things die. All things change.

The ultimate failure mode for diversification is to consider it in too narrow a context, and mistake our attachment to particular mythologies, cosmologies, and models for the immutability of those things.

There are many triggering ways of illustrating this, but I'll leave it at this: society can remain communist longer than you can remain alive.
I have been linking to Enso Finance for a while. No reader has yet picked up and commented on anything below, though.
Perhaps it's a blog that you need to have been around the block a few times to gel with? It feels to me full of deep wisdom. Like talking shop with the oldest genial person in the office.
If you're a veteran investor I say give it a try.
Have a great weekend everyone!
From Monevator
Irish ETFs: post-Brexit CDI switch – Monevator
Do you have an investing edge? – Monevator
From the archive-ator: Tax relief upfront is the same as tax relief later – Monevator
News
Note: Some links are Google search results – in PC/desktop view you can click to read the piece without being a paid subscriber. Try privacy/incognito mode to avoid cookies. Consider subscribing if you read them a lot!1
Private sector growth at eight-year high as retail sales jump – Guardian
UK public sector spending deficit hits £303bn post-war record – Pound Sterling Live
House prices hit all-time high; beach huts lead the market in price inflation… – Country Life
…as total property sales hit 16-year high – Guardian
Government to pay £120m to London Capital & Finance investors – Which
FCA warns social media sites it will act on risky investment offers – Guardian
Credit Suisse raises capital after the Archegos blow-up – Reuters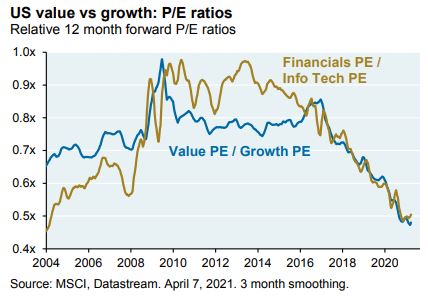 Value has a long way to go before it catches back up with growth – The Irrelevant Investor
Products and services
Vanguard launches price war in UK pension market [Search result] – FT
'BankHub' trials an alternative to High Street branches – ThisIsMoney
A three-year face-off between Nutmeg, Wealthify, and Vanguard – Much More With Less
Nationwide increases borrowing limit to 5.5x salary, with a five-year lock-in – ThisIsMoney
Sign-up to Freetrade via my link and we can both get a free share worth between £3 and £200 – Freetrade
The pros and cons of using a buy-to-let managing agent – ThisIsMoney
Gates, cameras, and home security systems are more costly than you might think [Search result] – FT
Barclaycard reportedly facing customer backlash after slashing credit limits – ThisIsMoney
Homes for sale near water, in pictures – Guardian
Comment and opinion
Investors are the moths, markets are the flames – A Teachable Moment
Does withdrawal frequency timing alter success in drawdown? – The Poor Swiss
How much should you have saved by your 30s? – A Wealth of Common Sense
Bonds as investments today [Podcast, fortnight old] – Wealth Managed
Is the exhausting cult of productivity finally over? – Guardian
Adaptation – Indeedably
Wooden spoons – Humble Dollar
Central bank money printing is largely irrelevant to money supply and inflation – Factor Research
Investing is a joke mini-special
The most annoying bull market of all-time – A Wealth of Common Sense
Yeah, I bought some Dogecoin today – Slate
The era of the joke as an investment idea – Of Dollars and Data
Naughty corner: Active antics
With specialty funds, bigger has been better – Morningstar
Understanding edge – Party at the Moontower
Increasing disclosure requirements could hurt investors – Albert Bridge Capital
Wall Street has mostly given up on shorting pricey stocks – Yahoo Finance
Why should equities be fairly valued? – Behavioural Investment
Endowment performance has sharply deteriorated since 2008 – TEBI
Covid corner
India's Covid surge affects the entire world – Slate
Kindle book bargains
Bezonomics: How Amazon Is Changing Our Lives by Brian Dumaine – £0.99 on Kindle
Never Split the Difference by Chris Voss – £0.99 on Kindle
Rebel Ideas: The Power of Diverse Thinking by Matthew Syed – £0.99 on Kindle
Blood, Sweat, and Pixels: The Turbulent, Triumphant Stories Behind How Video Games Are Made by Jason Schreier  – £0.99 on Kindle
Environmental factors
"Urgency and agency": Michael Mann on conquering climate despair – Behavioral Scientist [h/t Abnormal Returns]
Off our beat
How people get [really] rich now – Paul Graham
The self-educating child – Mr Money Mustache
How many T. Rexes were there? Billions – Berkeley News
Parents are sacrificing their social lives on the altar of intensive parenting – The Atlantic
How one man accidentally became a global fashion brand – Guardian
The creator crisis forced artists to be founders [Podcast] – Josh Constine
And finally…
"Why do bubbles end? One obvious reason is that they run out of fuel."
– William Quinn, Boom and Bust: A Global History of Financial Bubbles
Like these links? Subscribe to get them every Friday! Like these links? Note this article includes affiliate links, such as from Amazon, Unbiased, and Freetrade. We may be  compensated if you pursue these offers – that will not affect the price you pay.
Note some articles can only be accessed through the search results if you're using PC/desktop view (from mobile/tablet view they bring up the firewall/subscription page). To circumvent, switch your mobile browser to use the desktop view. On Chrome for Android: press the menu button followed by "Request Desktop Site". [↩]