What caught my eye this week.
I have mentioned before my group of friends on an email list who've been debating Covid-19 since January.
Well, this same group of friends was previously preoccupied by arguing the future of cash.
I think cash use is doomed to dwindle in the West, probably fast. Most of them think that would be terrible.
Now it seems the streams are crossing. It's becoming clear from the data that cash use has crashed in the Covid-19 era and the knock-on lockdown.
You can't touch this
I have shares in a bunch of listed and unlisted fintechs and payment companies that have seen their prospects skyrocket since physically touching anything except a bar of soap became oh so 2019.
Some are seeing higher volumes, such as the automated savings app Chip.
Others are taking a short-term hit to their 'take' because overall spending is down – but they are seeing more users turn to their products, which bodes very well for the future. Square and Visa are examples here.
The trend is their friend. Just this week I received another press release suggesting UK consumers are increasingly shunning cash.
The release – from a technology and branding company called Toluna – states:
The use of ATMs has reduced by 36% during the pandemic, mostly because of people not being out and about much but also the [perceived] higher transmission risk of the virus when handling cash.
Online banking or use of mobile apps and payment methods has increased by 33%.
Phone banking is down by 5%.
Those visiting their bank in person is also a lot less now than it was before the pandemic, with branch banking experiencing a 34% decrease.
Rather like the feasibility of working from home seems to have astonished half of UK PLC, the infrastructure for the cashless society was already pretty much in place before many people decided to finally try it.
Fintech to the rescue
I agree with my friends that some marginalized – particularly elderly – communities may not be super-comfortable using the latest fintech app to monitor their finances, or to wave their mobile phone to buy a pint of milk.
But where I disagree is the claim that this is an insurmountable problem.
A determined effort by the government and the private sector could create some kind of universal digital option for those still living pre-2005.
Just a State-issued contactless card and monthly paper statements in the post would do in a pinch.
But of course I'd rather everyone got more ambitious. Because where I really disagree with my friends is when they claim that ditching cash is disempowering from a budgeting perspective.
The power of apps like Money Dashboard1 leaves counting out coins from a jam jar in the dust.
Indeed even the most humdrum mobile bank accounts are beginning to boast features that were the cutting-edge from whizzy start-ups in East London just a few years ago.
Three valid fears
I do agree with my chums in three respects, however.
Firstly, the cashless digital society is in need of a back-up plan when, metaphorically, the battery runs out.
This could be because I forgot to charge my phone or because a financial service provider is hacked, crashed, or forgot to charge its phones (/servers).
I can think of various ways around this – solutions using biometrics, cryptocurrencies, and short-term (invisible?) peer-to-peer lending.
But until they exist, the case for keeping a wodge of tenners as an option is strong.
Secondly, digital payments are far more friction-free. And it's true this could encourage more thoughtless spending. However that's nothing new. We've had credit cards for decades. As I say, at least with digital payments you have the potential to build in all kinds of automated checks and balances that you can't do with dumb cash.
Finally, to lose the cash option is definitely to lose some privacy.
Perhaps that will be the edge case that finally leads to a Bitcoin usage explosion? Not for buying illicit drugs on an Internet backwater, but for paying for more humdrum items that you'd still rather a spouse or the government didn't see.
Noted
I've come around to the view that Covid-19 is going to change more than seemed likely six months ago.
Encouraging the demise of cash is near the top of that list, I reckon.
From Monevator
Our updated guide to help you find the best broker – Monevator
From the archive-ator: Nine underrated tools to help you achieve Financial Independence – Monevator
News
Note: Some links are Google search results – in PC/desktop view you can click to read the piece without being a paid subscriber. Try privacy/incognito mode to avoid cookies. Consider subscribing if you read them a lot!2
The true scale of London's economic meltdown – capital faces crisis not seen for generations – ES
Stamp duty cut prompts surge of interest in London commuter belt – Guardian
Chancellor threatens tax raid under guise of a capital gains tax 'review' – ThisIsMoney
NS&I net financing target raised from £6bn to a whopping £35bn – NS&I
Trading in misery: beware bedroom Forex traders boasting millionaire lifestyles… – ThisIsMoney
Judging by restaurant traffic, the US is still in a partial de facto lockdown – Calculated Risk
Robert De Niro is broke because of coronavirus, might only make $6m this year – Yahoo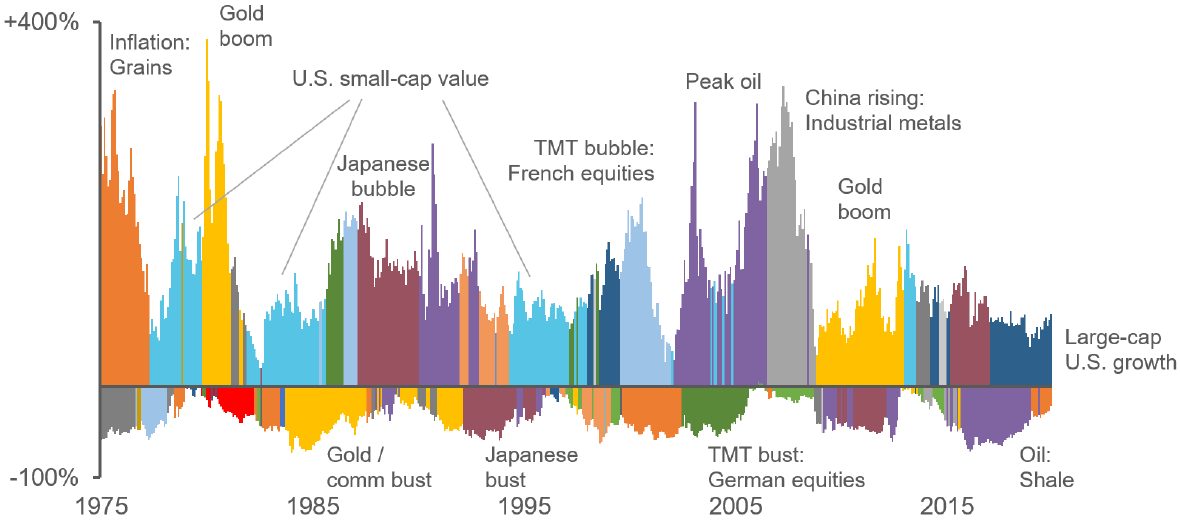 Re-examining diversification: Best/worst performers over four-year rolling periods – Arcadian [h/t AR]
Products and services
Monzo launches a new version of Monzo Plus that pays interest – Which?
Fee war hits its limit with the demise of a [US] ETF that paid you to invest – Yahoo Finance
Want to avoid investing in fossil fuels? Check out the iShares MSCI World SRI Fund – DIY Investor
Sign-up to Freetrade via my link and we can both get a free share worth between £3 and £200 – Freetrade
Zoom mortgages, rates fixed for 30 years, and virtual viewings: the future of homebuying – ThisIsMoney
City flats with outside space for sale [Gallery] – Guardian
Comment and opinion
What do World War 2 planes and investment funds have in common? – Bunker Riley
Buy-to-let: It's not 1994 anymore – Finumus
It took decades – Humble Dollar
Caught in the rain – The Belle Curve
How much should you save? – Fire V London
Merryn Somerset-Webb: Capital gains tax is a 'stealth wealth tax' [Search result] – FT
The 60/40 portfolio's returns over the long run [US but relevant] – Two Centuries Investments
Seven valuable non-financial assets in retirement – Advance Capital Advisor
Why working from home will not become the new normal – Klement on Investing
The reason equal-weighted index funds have tended to deliver better returns – Morningstar
Wealth inequality and lottery ticket stocks – A Wealth of Common Sense
How a single mum feeds her family-of-three for £9.90 a week each – The Sun
Heads I win [Maths!] – Albert Bridge Capital
Gold trading mini-special
"The day I was asked to buy and sell gold" – Financial Ducks In A Row
Gold record in sight as ETF inflows skyrocket – ETF.com
Gold timers have rarely been more bullish than they are today, and that's bearish – MarketWatch
Naughty corner: Active antics
Letting go of investment decisions – Worth
Hedge fund titans grab lion's share of the industry's spoils [Search result] – FT
Big tech drives the stock market without much US help – Yahoo Finance
You don't see the whole picture – Party at the Moontower
Covid-19 corner
Hancock orders review of discrepancies in Covid-19 death figures – Guardian
New data on T cells and the coronavirus – Derek Lowe
US shatters coronavirus record with over 77,000 cases in one day – Reuters
New cafe restrictions in Sydney Australia as Melbourne cases spike – Bloomberg via MSN
Stanford doctor: Coronavirus fatality rate for people under 45 'almost 0%'… – Washington Examiner
… pre-print from same doctor finds median IFR of 0.24-0.27% using seroprevalence data – medRxiv
There's apparently a boom in American urbanites buying farmsteads to escape Covid-19 – Modern Farmer
We're stuck in a lockdown 'work from home' purgatory – Wired
Kindle book bargains
The Hidden Life of Trees by Peter Wohlleben – £0.99 on Kindle
The Economics Book: Big Ideas Simply Explained by Niall Kishtainy- £1.99 on Kindle
Alchemy: The Surprising Power of Ideas That Don't Make Sense by Rory Sutherland – £0.99 on Kindle
When Genius Failed: The Rise and Fall of Long Term Capital Management by Roger Lowenstein – £0.99 on Kindle
Off our beat
"I've seen a future without cars and it's amazing" [Includes cool graphics] – New York Times
Four ways to break up the monotony of your workweek – Fast Company
Asia's ecosystems were buckling before Covid-19. The future has to be different – CNN
Fifteen ways to be happy – Humble Dollar
How we met: 'It's 1,300 miles to Romania – the same as the number of pounds my phone bill was' – Guardian
Undoing the toxic myth of exclusion and scarcity – Seth Godin
And finally…
"Lost Time is never found again."
Benjamin Franklin, Poor Richard's Almanac
Like these links? Subscribe to get them every Friday!
Affiliate link, sort of. If you register I get ten free 'member shares' worth about 60p at the last count. [↩]
Note some articles can only be accessed through the search results if you're using PC/desktop view (from mobile/tablet view they bring up the firewall/subscription page). To circumvent, switch your mobile browser to use the desktop view. On Chrome for Android: press the menu button followed by "Request Desktop Site". [↩]