What caught my eye this week.
When my co-blogger The Accumulator told me about a new investing game, Build Your Stax, I was excited.
This educationally-minded simulation features all the asset classes – even individual stocks – and runs over a 20-year period.
A review by Allan Roth made it sound like The Matrix for money nerds:
Players will see high-flying stocks and learn that some may continue to fly while others will crash and burn.

They will encounter bull and bear markets, and learn the emotions and responses that accompany each.
Exciting! Would I be so bowled over I could swap my risky hobby of active investing for the virtual version instead?
Stax includes assets other than just shares, so it promised to be more than just a 'pin the tail on the riskiest company' paper money game.
Stacking the deck
Sadly, Stax didn't live up to my hype.
Because you live through 20 years of market returns so quickly, you don't really experience the emotional highs and lows of losing even fantasy money, as Roth suggested.
In fact it's hard to even follow which assets are doing well, beyond a stark profit or loss line.
The individual stocks part is especially silly. There's no data on the companies, and their prices whirl around seemingly randomly. I accept share moves might look that way if you're not following companies closely, but whether a company – or its shares – does well is not random over the long-term, it's related to earnings.1
That said, one neat aspect to Stax is it uses real-world data sequences for its asset classes returns – and it doesn't tell you what time period you're living through in advance.
The share prices aren't really random, then, although they might as well be because you're given no information about the companies.
More importantly, at the asset class level sometimes (usually!) a simple index fund beats everything. But sometimes you'll wish you stayed in CDs (basically the US equivalent of our fixed-term savings bonds).
I did beat the computer, but I didn't feel that proved I was the new Warren Buffett.
Oh, and this screen took the biscuit for me: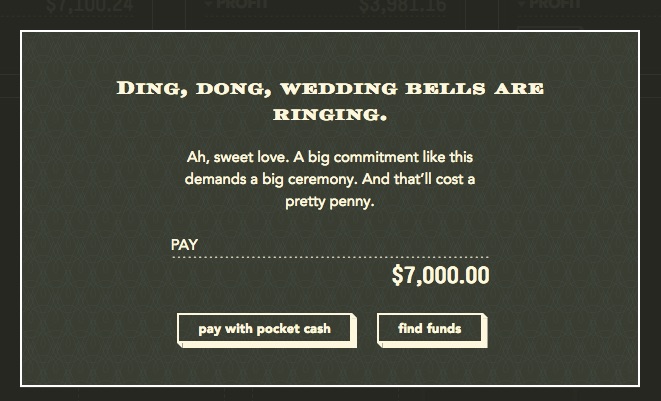 I'll take my chances on a bear market, but I can't envisage ever letting a marriage imperil my wealth.
For all my moans Build Your Stax is a fun way to spend 20 minutes. Give it a go and let us know what you think in the comments below.
From Monevator
How to buy and sell index trackers – Monevator
From the archive-ator: 10 things I've learned from being an active investor – Monevator
News
Note: Some links are Google search results – in PC/desktop view you can click to read the piece without being a paid subscriber. Try privacy/incognito mode to avoid cookies. Consider subscribing if you read them a lot!2
£15bn pensions windfall: Are you due some after court ruling? [Search result] – FT
US economic growth too robust for the Fed to bow to wobbling markets – Bloomberg
Nine out of ten Black Friday deals cheaper at other times, says Which? – Guardian
Investor says sorry for huge losses [No, not THE Investor…] – BBC
Young are saving more for pension, but many still confused and over-optimistic – ThisIsMoney
Graduates trapped in unpaid internships, study finds – Guardian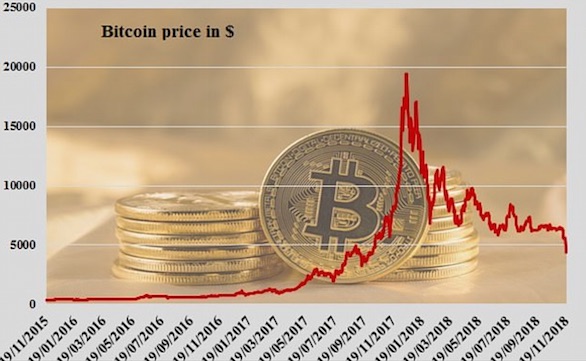 Simon Lambert: Five takeaways from the Bitcoin bubble – ThisIsMoney
Mainstream FIRE mini-special
Can anyone retire in their 30s? [Author emailed us, I missed it! 🙁 ] – Guardian
Want to retire early? Get FIRED – Daily Mail
FIRE: Live frugally and retire early – BBC
Products and services
40 ways to get free money – Moneywise
Smart meters rollout labelled a 'fiasco' as consumers face extra £500m bill – Guardian
Building Societies reconsidering the case for 100% mortgages – ThisIsMoney
Ratesetter will pay you £100 [and me a bonus] if you invest £1,000 for a year – Ratesetter
Remember last December, when people paid a 2x premium to invest in a Bitcoin trust? – Bloomberg
Homes for sale on British islands [Gallery] – Guardian
Comment and opinion
Yards after contact – The Reformed Broker
The dangers of maximization – The Research Puzzle
What if active investing wasn't zero sum? [Trick premise but interesting] – Morningstar
Simple isn't easy [Dividend tax bit is US taxes] – Humble Dollar
Change almost always comes as a surprise – The Financial Bodyguard
Rich people's problems: There's no such thing as free banking [Search result] – FT
Why is divorce expensive? Because it's worth it! – Financial Samurai
Meb Faber outsmarted by his childhood stock picks – Market Watch
At the intersection of art and money – Abnormal Returns
Saving regret is common, but it's events not laziness that got in the way [Research] – SSRN [h/t Abnormal Returns]
There's still a case for owning Berkshire Hathaway – Brooklyn Investor
The rise of zombie stocks – Factor Research
Brexit
Brexiteer coup flops [Does anyone believe their magic thinking anymore?] – Spectator
Brexit political declaration: What you need to know [Search result] – FT
What happens if MPs reject the deal? [Video, great explainers] – TLDR News
"…a deal so unimaginably bad that no-one wants it. Not the EU, not the UK, not Brexiters, not Remainers, not Tories, and not Labour. No-one wants it and we're told to do it anyway." – Ian Dunt
EU officials meet to finalize agreement – BBC
Dominic Raab: Theresa May's deal worse than staying in EU – Guardian
Shocked – shocked – to read Tommy Robinson is now an advisor to UKIP – Guardian
Kindle book bargains
Why You? 101 Interview Questions You'll Never Fear Again by James Reed – £1.99 on Kindle
Thank You for Being Late: An Optimist's Guide to Thriving in the Age of Accelerations by Thomas L. Friedman – £1.99 on Kindle
The Spider Network: The Wild Story of a Maths Genius and One of the Greatest Scams in Financial History by David Enrich – £1.99 on Kindle
Tiny Budget Cooking: Saving Money Never Tasted So Good by Limahl Asmall – £1.09 on Kindle
Off our beat
High score, low pay: Why the gig economy loves 'gamification' – Guardian
The simple joy of 'no phones allowed' – Raptitude
There's seldom any traffic on the high road – Farnham Street
'Sci-fi' plane with no moving parts flies successfully [Video] – BBC
Computer vision: How Israel's secret soldiers drive tech success [Search result] – FT
And finally…
"Never buy anything from someone who is out of breath."
– Burton G. Malkiel, A Random Walk Down Wall Street
Like these links? Subscribe to get them every Friday!
The reason even those who study companies and their prospects closely can't beat the index is not because share prices are a lottery. It's because the market mostly does a good job at figuring out the earning's outlook for different firms, and what to pay for them in advance. And the reason stock price moves can be described as 'random walks' is because the current price supposedly encapsulates all the known information about a company, making the next piece of information – and price move – in theory a crap shoot. [↩]
Note some articles can only be accessed through the search results if you're using PC/desktop view (from mobile/tablet view they bring up the firewall/subscription page). To circumvent, switch your mobile browser to use the desktop view. On Chrome for Android: press the menu button followed by "Request Desktop Site". [↩]