What caught my eye this week.
I read an interesting tidbit this week from the blogger Canadian Couch Potato. During his podcast chat with Shannon Lee Simmons, a young financial planner, he says:
Shannon says she's noticed a discouraging trend among younger investors that she calls "fee shaming."

This is when a supposedly enlightened index investor scoffs to a friend or family member, "You're paying a 2% MER on a mutual fund? Oh my god, I'm paying 0.05% on my ETFs."

The person on the receiving end of the criticism, as you can imagine, feels like they're being called a fool.

It's a lesson for all of us who want to share what we've learned about smart investing: help others in a respectful way without sounding self-righteous.
Most of us 'woke investors' have done a bit of self-righteousness in our time.
I noticed a few years ago in personal conversations that it doesn't help to go too full-on – people either think you're saying they're morons, in which case they want to change the subject, or they think you're a zealot or you've lost the plot, with similar results. But I still can't help myself sometimes.
We probably don't always get the balance right on this blog, either. But at least new readers can discover in the privacy of their own home how the high fees they've been paying have been buying City boys' Porsches.
The podcast also discusses Bitcoin. Apparently it's the next big thing with young folk – but Canadian Couch Potato isn't so sure…
p.s. The title of this post explained for younger readers – via YouTube.
From Monevator
Hedging your shares against currency risk can boost returns – Monevator
Our interactive broker/platform selection tool has had a refresh – Monevator
From the archive-ator: Seven unusual ideas for a better value wedding – Monevator
News
Note: Some links are Google search results – in PC/desktop view these enable you to click through to read the piece without being a paid subscriber.1
Vanguard's new CEO doesn't like reading good news about his firm – Bloomberg
The 'Brexit effect' on UK domestic stocks [Search result] – FT
Stamp duty cut has not pulled first-time buyers into market, says RICS – ThisIsMoney
Watchdog probes pension advisers, but won't ban final salary transfers – Telegraph
Milton Keynes: The capital of 'right-to-buy-to-let' – Guardian
UK burglary hotspots revealed by postcode – ThisIsMoney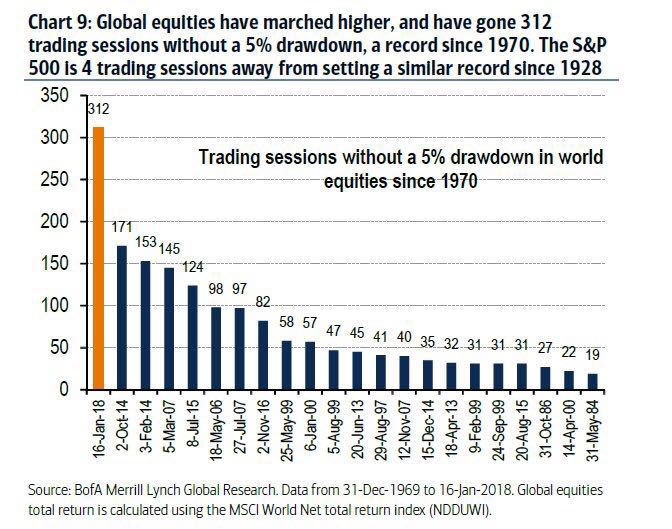 World index on 312 trading day run without a 5% correction. Almost double any other previous period since 1970 – BofA via Tiho Brkan on Twitter
Products and services
Santander slashes highest borrowing rate – but no joy for 'mortgage prisoners' – Telegraph
Credit cards: Is this the end of the great rip-off? – Guardian
What has happened to property funds since Brexit forced lock-ins? – Telegraph
Sign-up here for the highly-rated money app Squirrel and we both get £15 – Squirrel
Postcode lottery makes Ipswich, Stockport, Cumbria savers luckiest in land – ThisIsMoney
Smart meters: can energy suppliers (or hackers) turn off my supply remotely? – Telegraph
Comment and opinion
John Kay: Risk, the retail investor, and disastrous new rules [Search result] – FT
Simplicity Vs. Schwab's Robo Portfolio – ETF.com
Lessons from the 2017 asset performance quilt – A Wealth of Common Sense
Minimizing regret – Retirement Planning for the Unwealthy
Breaking Up Tech: Indexes doing what the economy won't – The Reformed Broker
As good as it gets for the (US investors') 60/40 portfolio? – The Irrelevant Investor
There's a major market crash coming – The Escape Artist
You can retire early without becoming a frugal extremist – MarketWatch
Short-term bias is putting Britons at financial risk – The Evidence-based Investor
Looking behind the numbers for US stock market indexes – McKinsey & Company
Calculated risk: On investment mathematics – SexHealthMoneyDeath
Is an 8% yield enough for a housebuilder? [PDF] – UK Value Investor
The rebalancing headache – Liberate.Life
2017 in review: A year of two halves – Retirement Investing Today
Terry Smith's annual letter for Fundsmith is an interesting read – Fundsmith
Crypto corner
Long-term, hackers have stolen about 14% of the main crypto currencies – Bloomberg
Must read: Everyone is getting hilariously rich and you're not – NYT
Researchers find that ONE person likely drove Bitcoin from $150 to $1,000 – Techcrunch
The entertainment value of Bitcoin [Search result] – FT
Interview with informed crypto-bear Preston Byrne [Podcast] – Invest Like The Best
Merry S-W: I told you investing in Bitcoin was a bad idea [Search result] – FT
As Bitcoin sinks, Crypto Bros party hard on a Blockchain cruise – Bloomberg
Off our beat
Compounding is the most important idea in life – Medium
How to maintain friendships – New York Times
And finally…
"Never buy anything from someone who is out of breath."
– Burton G. Malkiel, A Random Walk Down Wall Street
Like these links? Subscribe to get them every Friday!
Note some articles can only be accessed through the search results if you're using PC/desktop view (from mobile/tablet view they bring up the firewall/subscription page). To circumvent, switch your mobile browser to use the desktop view. On Chrome for Android: press the menu button followed by "Request Desktop Site". [↩]