What caught my eye this week.
When it comes to collateral damage from the tragedy in Ukraine, investors in Russia can only come near the bottom of the sympathy list.
But Monevator is an investing site. And the tumult in Russian assets since the war began is one for the ages.
Russia's stock market was kept closed all week. But that didn't save its key constituents from a furious reckoning of price discovery on foreign exchanges.
As war and its repercussions unfolded, Russian stocks were smashed.
Invasion-day alone saw the fifth-worse plunge of all-time for the Russian equity market, in local currency terms.
It only got worse from there.
From Russia with Love
As CNBC reports:
Russia's London-listed stocks had lost almost all of their value by the time [their] suspension was announced on Thursday.

Sberbank was down 99.72% year-to-date to trade for around a single penny on Wednesday, while Gazprom was down 93.71%, Lukoil 99.2%, Polyus 95.58%, Rosneft 92.52% and EN+ 20.51%.
These are giant firms getting roiled.
True, their foreign-listed holdings might be being treated with especially extreme prejudice.
For newly-minted legal and regulatory reasons as well as – for want of better words – moral or PR ones, Russia is now untouchable for many investors.
Norway's giant sovereign wealth fund has written-down its Russian holdings by more than 90%, for example. The manager warned: "it might be that they are essentially worthless at some point."
Happen to have some Russian share certificates under your bed? I wouldn't look forward to an overnight bounce when (if) Moscow reopens. Not unless this invasion ends very soon.
That's because we're seeing economic warfare on a Francis Ford Coppola scale.
Russia is on the fast-track to Pariah status. (And I'll say it again: I feel sorry for ordinary powerless Russians getting ruined by a despot).
Casino Royale
Already owning companies based in a gangster's paradise was one thing.
But what if you waited until this week before plunging into massively devalued Russian securities?
After all, a Russian Warren Buffett might say: "Bud'te zhadnymi, kogda drugiye boyatsya, i boytes', kogda drugiye zhadnichayut."
(Be greedy when others are fearful, courtesy of Google Translate).
Well I wouldn't recommend betting on Putin's autocratic nuclear-armed superpower with more than pin money. For economic reasons let alone moral ones.
Ethical squeamishness aside, you might argue owning a Russian ETF is 'option money' on Putin getting ousted. Preferably by someone more humanity-friendly.
Okay, but then there's the problem that Russian ETFs went batshit crazy (a technical term) this week.
Live and Let Die
As reported in the Financial Times [search result]:
The $446mn VanEck Vectors Russia ETF (RSX) closed on Tuesday at $8.26, a 177 per cent premium to its net asset value of $2.98 a share.

Similarly the iShares MSCI Russia ADR/GDR Ucits ETF (CSRU) closed at $28, 59.7 per cent above its NAV of $17.53.

However, most Russia-focused ETFs have plunged to sharp discounts, with the $165mn iShares MSCI Russia ETF (ERUS) and iShares MSCI Eastern Europe Capped UCITS ETF (IEER) both closing at discounts of 50-60 per cent to NAV.
The fact the Russian market is closed isn't as fatal to Russian ETF trading as you might imagine.
ETFs can still act as a means of price discovery during market dislocations.
We saw that in the bond market, for example, during the Covid crash.
High-yield ETFs apparently veered from their 'known' value when the market froze. But when it thawed they were roughly right about real underlying value.
However there are extra snags with Russian ETFs.
The FT continues:
…owing to the sanctions imposed on many Russian companies after the invasion of Ukraine, the closure of the Moscow stock exchange, capital controls and some ETF issuers' unwillingness to increase their exposure to Russian securities, many Russia-focused ETFs have halted the creation process and sometimes also the redemption process, causing the arbitrage mechanism to break down.
Ouch.
I am not an expert on ETF plumbing but Dave Nadig is:
Russia: how broken markets work with ETFs – ETF Trends
Skyfall
Wondering how quickly you can lose money when political risk goes 83.59% against you?
Here's the London-listed iShares Russian ETF (ticket: CSRU) over the past month: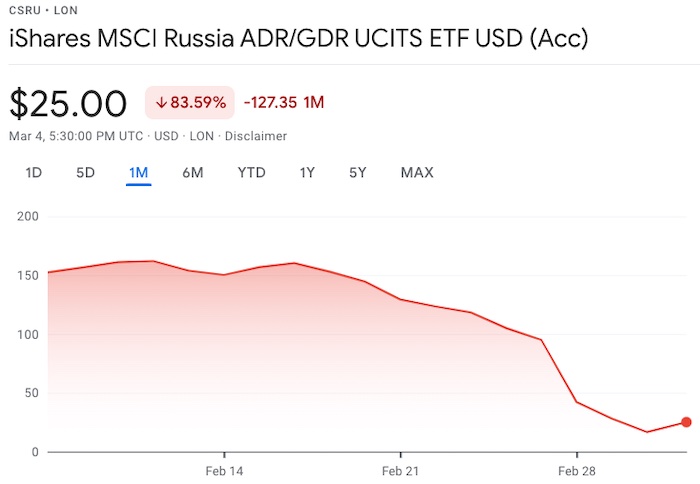 Grim by any stretch. But it's actually even worse than this!
As per the iShares website, the last recorded NAV1 of CSRU was barely $7. It could be trading at more than three times what its assets are really worth.
The iShares site warns:
Effective March 3, 2022, the Fund has temporarily suspended new creations and redemptions of its shares until further notice […]

Effective March 4, 2022, secondary market trading in the shares of the Fund has been suspended by Deutsche Börse, Euronext and Borsa Italiana.
The Russian stock market was shut for 75 years following the Bolshevik revolution in 1917.
Fair warning to any ambitious long-term investors reading this.
The World is Not Enough
Active and hedge funds with big exposure to Russia have faced all kinds of damage, obviously.
There have been suspensions, too. Here your money is locked into a fund for an unknown period. Outfits as diverse as BNP Paribas to the UK's Liontrust have suspended trading in Russian funds.
The vast majority of passive investors haven't done too badly. Emerging market index funds had less than 5% in Russia when this all got going.
Of course losing an entire country overnight is still a nasty hit. And given that MSCI and Dow Jones are now pulling 'uninvestable' Russian stocks from their indices, holders of passive funds tracking such indices probably can't expect a bounce from Russian stocks from any future recovery.
Incidentally, I've noted the Freedom Emerging Markets ETF before in Weekend Reading. This ETF tracks an alternative emerging markets index. It screens out the likes of Russia and China.
Unfortunately it's a US-only product. Maybe that will change now?
As Humble Dollar wrote this week, going without autocrats needn't be bad for your wealth:
Since inception in May 2019 through February, the fund is up 39%, outperforming Vanguard's emerging markets index fund, which is up 30%, and iShares Core MSCI Emerging Markets Index Fund (IEMG), up 29%, and it's even further ahead of the big fundamental-weighted funds mentioned above.
Quantum of Solace
As an active investor I had no exposure to Russia, fortunately, when Putin decided to do the worst retcon in recent history.
However plenty of other stocks have been smashed. Some European banks are down more than 25% on Russian exposure fears. We've all taken our lumps I'm sure.
And any of it pales into insignificance compared to Russian missiles raining down on your city. Let alone aggressive taunts concerning nuclear weapons.
Have a safe weekend wherever you are.
From Monevator
Snapshots from the front line of economic warfare – Monevator
Social care funding: how your house, pension, and savings are means-tested – Monevator
From the archive-ator: Gilts: UK government bonds – Monevator
News
Note: Some links are Google search results – in PC/desktop view you can click to read the piece without being a paid subscriber. Try privacy/incognito mode to avoid cookies. Consider subscribing if you read them a lot!2
Gas prices hit new record sparking fears over bills – BBC
UK petrol hits new high of 151.67p per litre – Guardian
Price of first-class stamps to rise 10p to 95p – BBC
US jobs growth surprisingly strong in February, and wages were flat – CNBC
We're definitely in that once-a-decade moment where you wished you'd diversified into commodities [I didn't] – Google Finance graph of WisdomTree Broad Commodities ETC
Products and services
Here's how to donate to Unicef's Ukraine campaign – Unicef
E.On's one-year fix for energy sells out amid cost-of-living fears – Guardian
Time-limited offer: open an account with InvestEngine via our link and get £25 when you invest at least £100, PLUS additional cashback when you invest £1,000 or more in an ISA (new customers only, T&Cs apply) – InvestEngine
Property start-up Boomin claims four new features over rivals – ThisIsMoney
The cheapest mortgage rates revealed – Which
Solar panels: a ray of hope as energy bills go through the roof – Guardian
Open a SIPP with Interactive Investor and pay no SIPP fee for six months. Terms apply – Interactive Investor
Georgian homes for Bridgerton fans, in pictures – Guardian
Comment and opinion
Tennis lessons – Fortunes & Frictions
Which BTL landlords were hit hardest by the tax changes? – ThisIsMoney
Retirement income: six strategies – Enterprising Investor
Safe investing at a time of uncertainty – Portfolio Charts
The next 30 years – Michael Baker
Why diversifying your portfolios is getting harder [US but relevant] – Morningstar
Should talking about money remain the last taboo? – Humble Dollar
The financial realities of death and aging [Podcast] – Standard Deviation
When can I be as rich as Batman? [Fun tool] – When Can I Be Batman?
Lessons unlearned – Humble Dollar
Crypt o' crypto
Financial Conduct Authority investigated 300 UK crypto firms last year [Search result] – FT
Naughty corner: Active antics
30 trusts that could have made you an ISA millionaire [Starting 1999] – IT Investor
Warren Buffett's 2021 annual letter… [PDF] – Berkshire Hathaway
…and lessons from this latest Berkshire letter – Novel Investor
Ukraine-Russia
Unexpected – Indeedably
UK dockers refuse tanker of Russian gas – BBC
Ukraine AirBnBs being booked to get money to residents – Guardian
A curated feed from credible Twitter sources on the conflict – via Twitter
Five reasons the sanctions are working – Full Stack Economics
Martin Wolf: the conflict is between tyranny and liberal democracy [Search result] – FT
Finding an off-ramp for post-Putin Russia – Noahpion
Why you shouldn't wish for a full-on Russian economic calamity – The Atlantic
College kid's Twitter bot that stalks Musk's jet is now tracking Russian oligarchs  – Ars Technica
How the Russian invasion is playing out on Wikipedia… – Slate
…and on Russian TV – BBC
Ken Rogoff: the 'peace dividend' is fading – Guardian
Sanctioned oligarchs and Bitcoin – ThisIsMoney
How dangerous was Russia's attack on a nuclear reactor? – BBC
Precedented times – Young Money
Kindle book bargains
Hacking Growth: How Today's Fastest-Growing Companies Drive Breakout Success by Sean Ellis and Morgan Brown – £0.99 on Kindle
The Almighty Dollar: Follow the Incredible Journey of a Single Dollar to See How the Global Economy Really Works by Dharshini David – £1.89 on Kindle
Invisible Women: Exposing Data Bias in a World Designed For Men by Caroline Criado Perez – £1.99 on Kindle
Posh Boys: How English Public Schools Ruin Britain by Robert Verkaik – £0.99 on Kindle
Environmental factors
Plans to extend the ULEZ to all of London by the end of 2023 – ThisIsMoney
ESG and alpha: sales or substance? – Institutional Investor
Why electric car prices are about to plummet – Sky News
Off our beat
The Good Old Days are happening now – Raptitude
How to get rid of almost everything [Some US detail, but good] – The New Yorker
Long Covid may reawaken interest in EBV, the 'everybody' virus – The Atlantic
The two worlds – Prime Cuts
And finally…
"Even short commutes stab at your happiness. According to the research, commuting is associated with an increased risk of obesity, insomnia, stress, neck and back pain, high blood pressure, and other stress-related ills such as heart attacks and depression, and even divorce."
– David Hansson, Remote: Office Not Required

Like these links? Subscribe to get them every Friday! Note this article includes affiliate links, such as from Amazon and Interactive Investor. We may be compensated if you pursue these offers, but that will not affect the price you pay.
Net Asset Value [↩]
Note some articles can only be accessed through the search results if you're using PC/desktop view (from mobile/tablet view they bring up the firewall/subscription page). To circumvent, switch your mobile browser to use the desktop view. On Chrome for Android: press the menu button followed by "Request Desktop Site". [↩]