The best of the week's money articles.
I don't expect corporate earnings to collapse. I don't expect a renewed recession, let alone the Depression so cavalierly predicted.
Could we get a recession? Sure – we always could, at any time.
A Eurozone break-up would probably do it, just like the gloomy say. If I thought it was a serious possibility, I'd hold far fewer equities, at least until it happened.
What I think is much more likely is that Western economies will continue to bump up and down, as corporates fail to squeeze much more juice out of their hard-pressed and increasingly skint workers, whilst continuing to enjoy the fat of the land from developing markets.
That might not sound particularly gangbusters, but it's got us this far. Investors over the past month have been predicting something different, wiping roughly 20% off share prices that weren't very stretched to begin with.
Citigroup has crunched some numbers on what happens when markets fall 20% but earnings fail to follow the script and don't collapse: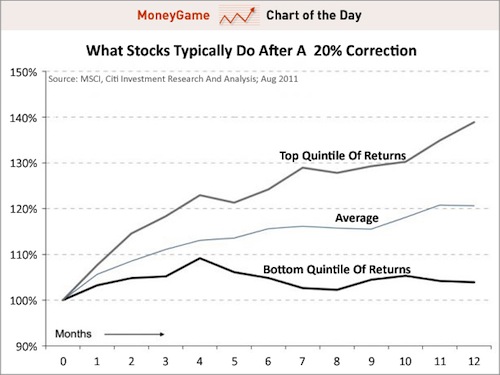 That's the sort of bet I like making. Unfortunately the source, Business Insider, doesn't give any more detail on how this data was constructed.
No worries though, because adding to equities for the long-term is common sense right now.
UK gilts haven't yielded so little since Britain had an Empire. Yet P/Es on shares are low and the market's forward dividend yield is at least 1.5% over gilts (and likely more). Corporates are awash with cash – and occasionally even spending it. Hewlett Packard's purchase of FTSE 100 firm Autonomy for a 75% premium seems far closer to me to an accurate valuation than the prices the trading robots and summer interns are putting on shares.
And valuations are what matter, not investors' manic depressive swings.
The market may well be right, but it will be wrong tomorrow – it's inevitable, because it's swinging more vigorously than Ron Jeremy after putting his car keys into a bowl at a party in Berkshire.
I wouldn't trust a nutter like Mr Market
to buy my popcorn. I'm certainly not about to trust his judgement with my money.
From the blogs
Book of the week: For all you naughty active traders and stock market obsessives out there, Amazon is taking pre-orders for this year's legendary Stock Trader's Almanac
. It's due out soon!
Mainstream media money and investing
Like these reads? Subscribe and get them every week!