What caught my eye this week.
This website is 10-years old, and it's amazing how much the financial landscape has changed in this time.
Was it really once exciting news when UK investors were offered an emerging market index fund? In 2010, when I wrote this post, yes. Before then you had to make do with active funds, investment trusts, or a handful of ETFs.
Today passive investing is increasingly the mainstream choice, and that is reshaping the financial industry.
Josh Brown from The Reformed Broker explained this week how this is already well advanced in the US:
The advisor clients are meeting with, in the modern era, is not promising them a way to "beat the market" or "discover hidden gems" on the Nasdaq.

Enlightened customers are not expecting their financial advisor, who works in an office complex off the side of the highway, or out of a storefront next to PF Chang's, to be able to trade tech stocks for them and make world-trouncing macro calls in between handling required minimum distributions from their IRAs and mailing out birthday cards.

Enlightened advisors are focusing on the client's needs and talking about what they can actually deliver – high quality, highly personalized ongoing advice and counseling.

The portfolio being proposed, and the proposal itself, are geared toward explaining why a specific allocation to a mix of asset classes is going to help the client reach their goals.
Of course the financial services industry is as slow to change as any other incumbent, which is why it puts out scare stories every few months about the risk of passive funds. Stories, which as Vanguard founder Jacke Bogle explains in this new interview below, often aren't even based on reality let alone opinion:
It's remarkable how much money Bogle must have saved investors over the decades – not just in terms of popularizing index funds but also how he structured Vanguard so it is effectively owned by its customers.
I sometimes wonder how much impact Monevator has made over the past ten years, based on feedback and traffic figures. Based on feedback and traffic figures, I think we've probably helped save investors several million pounds in fees by helping spread the news about passive investing.
But for Bogle, that figure must run to hundreds of billions of dollars.
Not a bad way to reflect back at your time in the office!
From Monevator
Life insurance and protection: A primer – Monevator
From the archive-ator: Why you must get out and stay out of debt – Monevator
News
Note: Some links are Google search results – in PC/desktop view these enable you to click through to read the piece without being a paid subscriber.1
Equitable Life to shut down with surprise £1.8bn policyholder windfall – Guardian
Rich pensioners hoard cash and reject the urge to spend [Search result] – FT
House price inflation could wipe out the benefit of stamp duty cut in 10 years – ThisIsMoney
Average-priced homes too pricey for average earners [Search result] – FT
Fall in UK rail passenger numbers casts doubt on viability of franchises – Guardian
Snacks, slouching, and stagnant wages: How the office is making us miserable – Guardian
Was the Tether cryptocurrency used to ramp the Bitcoin bubble? [Search result] – FT
Bank of England warns on 0% interest rate credit card offers [Search result] – FT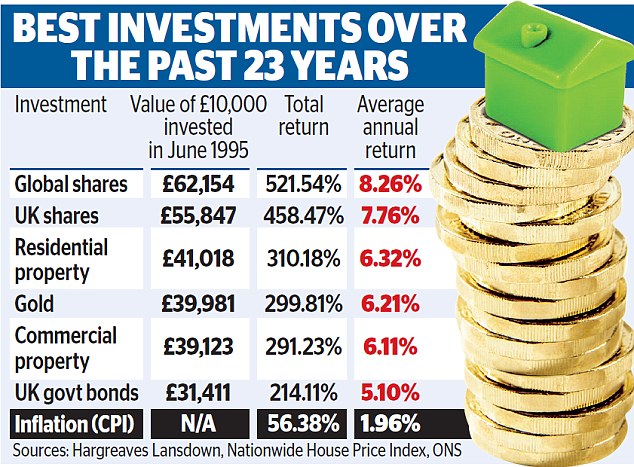 How house price gains compare to shares, gold, and bonds – ThisIsMoney
Products and services
NS&I slashes its savings cap from £1m to £10k – ThisIsMoney
How good are Vanguard's active funds? – The Evidence-based Investor
Vitality offers lower ISA and pension fees to customers who go to the gym – Telegraph
Ten things you should know about getting divorced [Search result] – FT
Two active fund 'World Cup' portfolios [unsurprisingly] fail to beat the market – ThisIsMoney
Amazon's Echo Show gadget currently costs £139.99 (it's normally £200) and it can be yours in just two hours! – Amazon
Lifetime mortgages Vs retirement interest-only mortgages – Telegraph
How to save money keeping your car fueled – ThisIsMoney
Small energy firms are hiking prices, too, but there are still cheaper deals than the standard tariff – ThisIsMoney
'Ethical grocer' Farmdrop raises £10m to expand home delivery service – Guardian
Comment and opinion
Your risk tolerance is an illusion: Wait until you lose big money – Financial Samurai
Life is more than compounding money – Intelligent Fanatics
Stock market investors: How to think like a property investor – UK Value Investor
Why do investors focus on the wrong things? – Behavioural Economics
Why do stocks (i.e. shares) generally go up over time? – A Wealth of Common Sense
Compounding should be the goal for all investors – The Value Perspective
The best economics podcasts in 2018 – Tim Hartford
What computer chess suggests about investing – Morningstar
De-risking the human condition – Humble Dollar
Frugal motoring: The PCP black hole – The FIRE Shrink
How I live on less than $40,000 annually: Ralph from West Virginia – Len Penzo
Market-timing with multiples, momentum, and volatility [Research] – Factor Research
Factors from scratch [Deep research, geeky!] – OSAM
Kindle book bargains
Eye of the storm: 25 years in action with the SAS by Peter Ratcliffe – £0.99 on Kindle
How To Be F*cking Awesome by Dan Meredith – £0.99 on Kindle
Quiet Leadership: Winning Hearts, Minds and Matches by Carlo Ancelotti – £1.99 on Kindle
Off our beat
City of Spies: How the battle for Catalonia has divided Barcelona [Search result] – FT
Jerry Seinfeld's closed door – Cal Newport
Marcus, Casper, Oscar: Why start-ups are obsessed with human names – Bloomberg
And finally…
"In my view it's possible to run a company both successfully and ethically. In fact, I'd go further. My own experiences in the business world suggest that an ethical approach, far from being a potential barrier to profits, is actually the secret to success."
– Julian Richer, The Ethical Capitalist: How to Make Business Work Better for Society
Like these links? Subscribe to get them every Friday!
Note some articles can only be accessed through the search results if you're using PC/desktop view (from mobile/tablet view they bring up the firewall/subscription page). To circumvent, switch your mobile browser to use the desktop view. On Chrome for Android: press the menu button followed by "Request Desktop Site". [↩]