What caught my eye this week.
Something weird happened on Monday. Maybe it was autumn in the air. Perhaps it was the mounting fears about Brexit inflation pushing up the price of a packet of Pringles.
But for a moment the British newspapers caught FIRE.
First The Times ran a (pay-walled) interview with The Escape Artist.
As fellow blogger Fire V London captured and reported on Twitter it even made that newspaper's venerable leader:
Next – within hours – The Daily Mail. It recapped The Times' interview with T.E.A. (and properly linked to both it and T.E.A's blog, unlike the rather ungenerous Times) before interviewing Ken Okoroafor of The Humble Penny.
Then, finally, The Guardian posted its own somewhat bemused take on 'the Fire movement'.
I don't know, maybe I'm an old punk who saw what Nevermind did to my little corner of music, but I was a bit unnerved by this sudden, synchronized interest from the newspapers
First they ignore you, then they laugh at you, then they join you – and then someone finds a new way to tax you!
Not to mention I'm a grouch about the FIRE acronym, too.
Then again, it was all forgotten by Tuesday. Stand down.
Have a great weekend.
From Monevator
All about inheritance tax – Monevator
From the archive-ator: If you want to make easy money, do something hard – Monevator
News
Note: Some links are Google search results – in PC/desktop view you can click to read the piece without being a paid subscriber. Try privacy/incognito mode to avoid cookies. Consider subscribing if you read them a lot!1
Average EU migrant contributes £2,300 more to UK public finances than average UK adult [Fiscal impact report] – Oxford Economics
Church of England pulls out of Wonga rescue effort – Guardian
Amazon may open as many as 3,000 cashier-less convenience stores by 2021 – Bloomberg
Buy now, pay later — the new debt trap for millennials? [Search result] – FT
London has only one property on sale for less than £100,000 – Guardian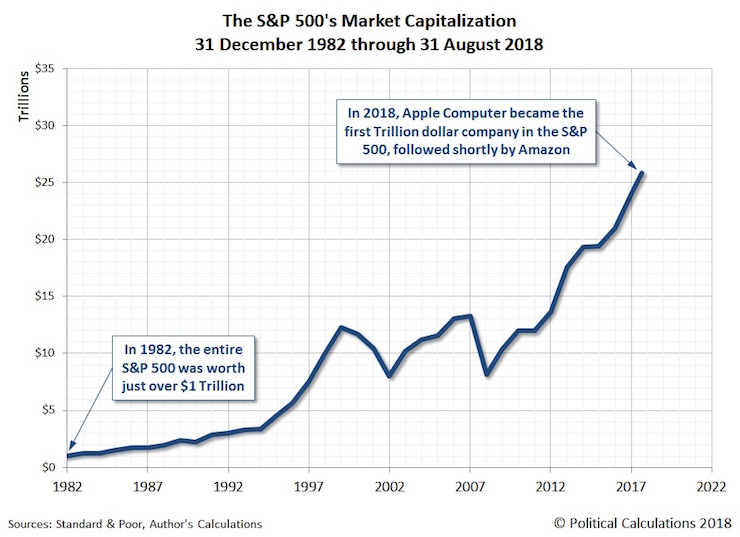 From trillion dollar markets to trillion dollar companies – Political Calculations
Products and services
Interactive Investor could scrap exit fees ahead of FCA ban – Money Observer
Dire Straits back-catalogue investment venture launched – Guardian
How to check the performance of your robo-adviser – ThisIsMoney
Ratesetter's £100 bonus effectively boosts your expected annual return on £1,000 to 14%  – Ratesetter [Affiliate link]
The cheapest ways to get a new Apple iPhone XS – ThisIsMoney
Only 20% of Britons hold ethical investment products, study finds – Guardian
National Savings & Investments to cut rate on its Direct Isa from 1% to 0.75% – ThisIsMoney
Comment and opinion
Does your income bring you joy or happiness? [Search result] – FT
Don't take investment advice from billionaires – A Wealth of Common Sense
Simon Lambert: The £750 exit fees to move my ISA – This Is Money
Saving is for the poor. Investing is for the rich – Nick Maggiulli via Twitter
Eight reasons why stock-picking is much harder than it looks – Jonathan Clements
Don't be too quick to write-off The Holy Active Empire – Jamie Catherwood
The Bizarro World of UK financial advice – Young FI Guy
Understanding the psychological challenges of investing – Market Fox
Bleeping bleep! On turning $1m into $64m via compound interest – Per Diem
Long-term [active] investing is simple, says Merryn Somerset-Webb [Search result] – FT
Lessons from the financial crisis have not been learned – The Value Perspective
Also: Fool me three times and I give up – Morgan Housel
What one analyst learned from being fired in the financial crisis [Search result] – FT
Some bonds are better diversifiers than others [US but relevant] – Morningstar
Kindle book bargains
Saturday-only: Two Michael Lewis classics are Flash Deals – The Big Short and Flash Boys.
The $100 Startup: Fire Your Boss, Do What You Love and Work Better To Live More by Chris Guillebeau – £0.99 on Kindle
Small Change: Money Mishaps and How to Avoid Them by Dan Ariely – £0.99 on Kindle
Your Money or Your Life: A Practical Guide to Getting – and Staying – on Top of Your Finances by Alvin Hall – £0.99 on Kindle
Talk Like TED: The 9 Public Speaking Secrets of the World's Top Minds by Carmine Gallo – £0.99 on Kindle
Brexit
Pound plunges as Theresa May admits "impasse" in Brexit negotiations – Independent
Brexit Secretary Dominic Raab sees "no explanation" for EU rebuff [Except, you know, everything the EU stated before and after the Referendum…] – BBC via Twitter
I mean, even Baldrick gets it – Tony Robinson via Twitter
But John Redwood remains sanguine. Slash a parody of himself – via Twitter
President Macron says Brexiteers lied Brexit would make UK wealthier – Guardian (Context)
Beware of Brexiteers now saying "We told you so" – Me on Twitter
Legal action to revoke article 50 referred to European court of justice – Guardian
Off our beat
On ecstasy, octopuses reached out for a hug – New York Times
And finally…
"There are tons of times in your life when you do not want to be using a Vulcan brain. Life is for living, and Spock was pretty damn boring, except for the time he got high sniffing plants on a strange planet. But making money the boring way is really the only way to do it. Save the Kirk in your for enjoying what it can bring you later."
– Robbie Burns, Trade Like A Shark
Like these links? Subscribe to get them every Friday!
Note some articles can only be accessed through the search results if you're using PC/desktop view (from mobile/tablet view they bring up the firewall/subscription page). To circumvent, switch your mobile browser to use the desktop view. On Chrome for Android: press the menu button followed by "Request Desktop Site". [↩]