Good reads from around the Web.
A research company called Mebane Faber wins my lesser-spotted post of the week award this Saturday for You are not a good investor, its disassembling of the vanities of stock pickers.1
First, the article calls up a fascinating study – The Capitalism Distribution – which examined stock returns from the top 3,000 stocks in the US from 1983-2007 and found:
39% of stocks were unprofitable investments
19% of stocks lost at least 75% of their value
64% of stocks underperformed the index
25% of stocks were responsible for all the market's gains
Mebane Faber notes:
Simply picking a stock out of a hat means you have a 64% chance of under-performing a basic index fund, and roughly a 40% chance of losing money.
Ah, but we stock pickers have no use for a hat! We select shares carefully!
Sadly, whatever I think of my skills and whatever you know about yours, we can say with certainty that most people are terrible at managing an active portfolio.
This is brutally shown in a follow-up chart from Business Insider, which uses data from BlackRock and the famous Dalbar Study of investor returns: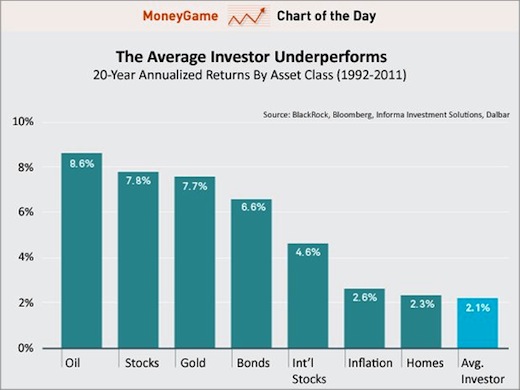 Incidentally, check out the return on homes.
I told you guys homes have been better investments for most people, but you insisted on making it into a debate about house prices… 😉
(This is US data but I'm sure the edge would be apparent in the UK, where we've had even stronger property booms.)
Note for RSS subscribers to Monevator
Do you subscribe to Monevator by RSS? If you do so via Google Reader, then please note it's shutting down soon. Personally I'd switch to receive the latest posts by email. Otherwise you'll need to find a new RSS readers to keep getting updates from Monevator and any other sites you follow.
Budget 2013
Budget roundups:
 Budget 2013 calculators:
From the blogs
Making good use of the things that we find…
Passive investing
Active investing
Other articles
Book of the week: Here's a reading list
for ISA investors. How many of these investing classics have you read?
Mainstream media money
Note: Some links are to Google search results – these enable you to click through to read the piece without you being a paid subscriber of the site.
Passive investing
Common diversification myths, part 2 – Mint
Largest US pension fund considers going passive – Investment News
Active investing
Is a stock market bubble brewing in the US? – Swedroe/CBS
How to invest in diamonds [Search result] – FT
Taking stock of Apple – Fast Company
Other stuff worth reading
Product of the week: Barclaycard has launched a new 0% balance transfer credit card with no interest to pay for 26-months. The Telegraph says that's the longest 0% initial period the UK.
Like these links? Subscribe to get them every week!
Full disclosure: I am such. For my sins. [↩]