What caught my eye this week.
There are some things you have to experience to fully understand. Losing your virginity is famously touted as one. Parents say bringing up a child is another. I haven't had that pleasure and I am more than happy to take their word for it.
One I would add to the list though is reaching what I suppose we must call 'middle age' (excuse me while I pop off to shout into a pillow… okay, back now, that's better) and looking back at the various ways your life to-date has fallen short of what might have been.
Sometimes you didn't realize why at the time. Perhaps you were being paid a fair whack not to think about it. Occasionally you were having a blast. Sometimes you had an inkling. Sometimes you couldn't pay the rent so it was pretty obvious.
Maybe the Japanese explain it best with this phrase and associated image, as shared by Rachel page on Twitter: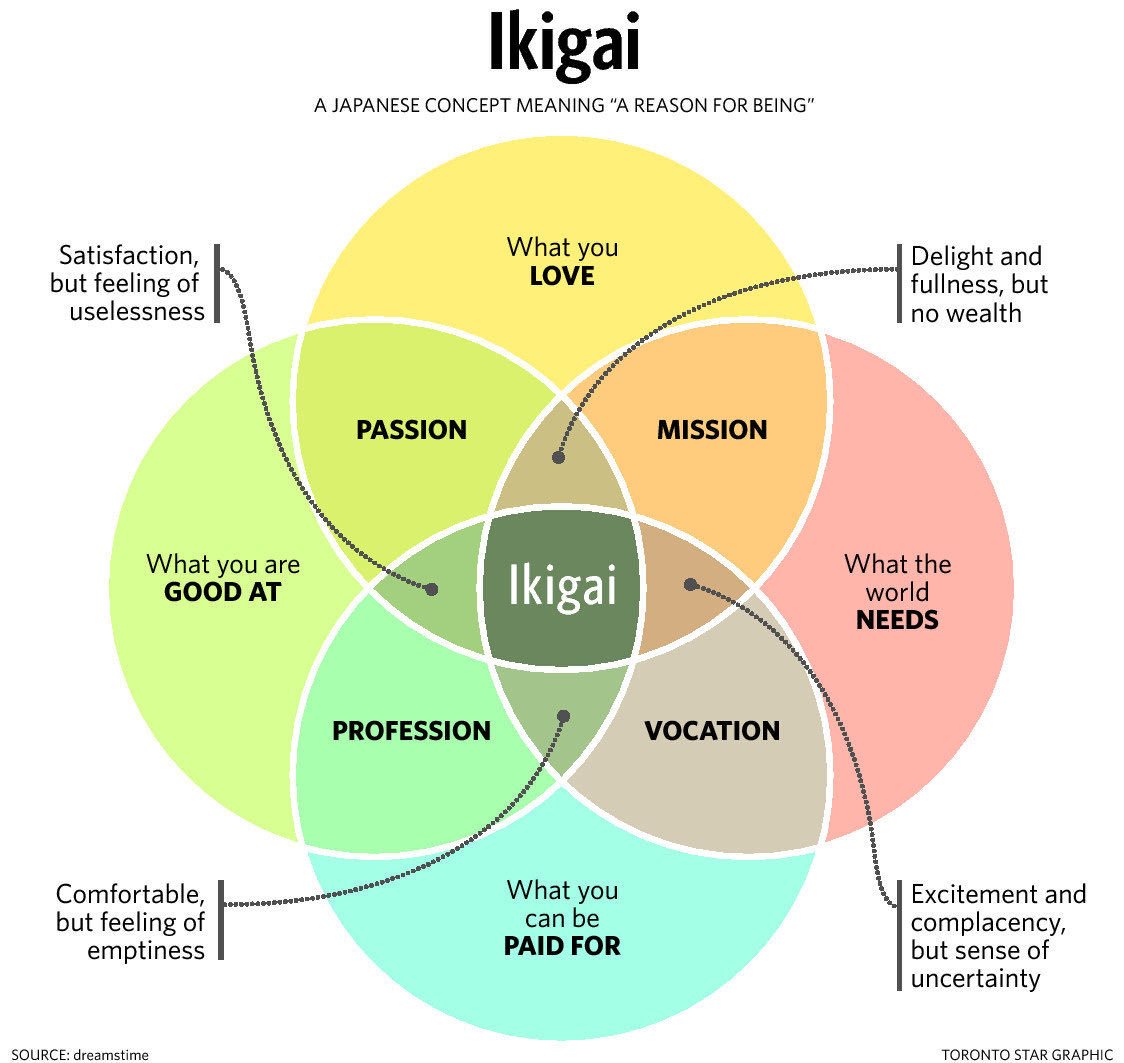 Looking at this diagram, I feel like I've lurked in the outer suburbs for most of my life, like some frustrated Home Counties adolescent poet – certainly not on the isolated fringes, so comfortable enough, but never in the thick of everything and completely fulfilled.
If I have achieved Ikigai then it was only fleetingly, and I'm not sure I noticed in the moment.
Many seekers after financial freedom, such as my co-blogger, don't seem to believe they can ever achieve Ikigai through work, so they best opt-out ASAP. I've said many times I believe there's a risk of swapping one dissatisfaction for another by bailing out entirely – not to mention the pain of getting there – but plenty disagree.
I like this diagram because it suggests a wonderful balance is possible. But I'd agree that like a Zen koan it's probably more something to be than achieved by most of us.
From Monevator
10 things you can do today to reset your life – Monevator
From the archive-ator: Admit it, you miss the market meltdown – Monevator
News
Note: Some links are Google search results – in PC/desktop view you can click to read the piece without being a paid subscriber. Try privacy/incognito mode to avoid cookies. Consider subscribing if you read them a lot!1
Some landlords face a tax rate of up to 66% on rental profits – ThisIsMoney
Asset managers 'have something to hide' from pension trustees [Search result] – FT
House prices grow at the fastest rate in a year, says Halifax – Guardian
UK homeowners opt for five-year mortgages amid economic worries [Search result] – FT
Waterstones buys rival Foyles as 'real bookshops' strive to survive Amazon – ThisIsMoney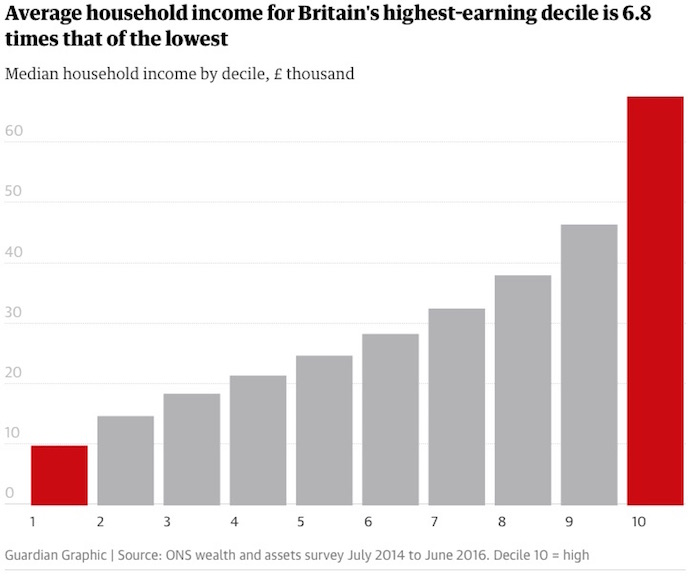 Thinktank calls for major overhaul of Britain's economy to achieve 'economic justice' – Guardian
Products and services
New app AirWayBill enables you to turn courier to save money on flights – ThisIsMoney
Energy bills to be cut by around £75 for more than 11m households – Guardian
How high street banks reward premier customers [Search result] – FT
Downstairs bathrooms can wipe £13.5k off the value of an average property – ThisIsMoney
Ratesetter will pay you £100 [and me a cash bonus] if you invest £1,000 for a year – Ratesetter
An overview of Monzo, Starling, Revolut and the other fintech darlings – ThisIsMoney
Terry Smith launches global smaller companies trust – CityWire
More: Trust launches show potential and — for once — fairer fees [Search result] – FT
Cryptocurrencies slump amid fears regulatory uncertainty will deter finance giants – ThisIsMoney
A look into the underbelly of the cryptocurrency markets – Nic Carter
Comment and opinion
Why you should calculate imputed rent – My Deliberate Life
The misjudged Lifetime Isa works only for those most able to save [Search result] – FT
It's not time to hit the ejector seat on emerging markets – Bloomberg
Gold, what's it good for? – The Irrelevant Investor
Merryn S-W: The Bank of Mum and Dad risks going out of business [Search result] – FT
That's rich – The Humble Dollar
How to run out of life before you run out of money [Search result] – FT
Small investors shouldn't bother with factor investing – Dan Solin
Value investing in the Third Reich – Jamie Catherwood
Why you shouldn't retire super-early, even if you can – MarketWatch
What really goes on at Mr Money Mustache headquarters – Mr Money Mustache
Why I sold Senior PLC after recent share price gains – UK Value Investor
Revisting the melt-up scenario – A Wealth of Common Sense
The cereal entrepreneur – Seth's Blog
What if? [Provocative macro-economic speculation] – Dr Yardeni
Kindle book bargains
The $100 Startup: Fire Your Boss, Do What You Love and Work Better To Live More by Chris Guillebeau – £0.99 on Kindle
My Fight to the Top by Michelle Mone – £1.19 on Kindle
Your Money or Your Life: A Practical Guide to Getting – and Staying – on Top of Your Finances by Alvin Hall – £0.99 on Kindle
Small Change: Money Mishaps and How to Avoid Them by Dan Ariely – £0.99 on Kindle
Off our beat
The way forward on immigration to the West – The Economist
Josh Rogan interviews Elon Musk [Video] – YouTube
Have the Famous Five got into boiler room fraud? – via Twitter
BBC admits it got climate change coverage wrong. No more deniers for 'balance'- BBC
The YouTube stars heading for burnout – Guardian
And finally…
"[Rural Indian] women who recently got cable TV were significantly less willing to tolerate wife-beating, less likely to admit to having a son preference, and more likely to exercise personal autonomy. TV somehow seemed to be empowering women in a way that government interventions had not."
– Steven Levitt, Stephen Dubner, Superfreakonomics
Like these links? Subscribe to get them every Friday!
Note some articles can only be accessed through the search results if you're using PC/desktop view (from mobile/tablet view they bring up the firewall/subscription page). To circumvent, switch your mobile browser to use the desktop view. On Chrome for Android: press the menu button followed by "Request Desktop Site". [↩]