What caught my eye this week.
Another week in the time-warp that is Brexiting Britain. Don't hold your breath if you're waiting for Star Trek.
First we had prime minister Theresa May's 'Brexit vision' in Florence.
While almost devoid of content, I thought May delivered a pretty rousing speech.
Unfortunately it was almost 18 months too late.
True, it wouldn't have convinced me Brexit was a good idea back in May 2016. But I would have doffed my cap to her for making a stirring case.
But this wasn't a wishy-washy Vote For Us campaign speech. This was a speech given more than a year after the UK voted to leave the EU! In a Referendum where many apparently thought we'd be more than halfway to the exit by now.
And it's ever more abundantly clear that there is/was no idea of the scale of the challenges, no plan, no progress – just barely concealed panic.
The only content in this curious piece of should-be historical reenactment? An admission that – of course – there will be a transition period and – of course – the UK will continue to pay into the EU during it.
Both are entirely obvious requirements to anyone but the politicians on the Leave stump last June, and to a sizeable cohort of their voters.
You might consider May vaguely acknowledging these realities is progress, but it wasn't delivered in a grown-up or rational way. Rather she offered a deeply couched acceptance to soften up the Brexiteers for the inevitable. It was in the same way flummoxed parents promise to the kids in the back of the car that there'll be ice creams later but first we have to go to B&Q. Miserable.
Uber stupid
Meanwhile back in London – shining capital of a bold new Brexit Britain or Wiley Coyote running over a cliff-edge, depending on your point of view – we had Transport for London announcing it would not be renewing Uber's licence to operate, potentially cutting off a service enjoyed by three million people at a stroke on 30 September.
True, Uber won't just cease operations – there will be an appeal. An appeal I suspect they'll win. We might be tending towards mob rule in the UK, but the mob wants Uber and I think they'll keep it.
But to try to cut the service down at a stroke seems a Draconian way to do business in 2017.
Why not big fines? Why not notice periods? I'm not an expert on taxi cab licensing, so perhaps my thoughts are wide of the mark. But to me it seems like a return to 1970s-style local politics and protectionism, and emblematic of the irrational way we're making decisions these days.
Uber is a far from perfect company, but the world and its dog knows that. The founder has been replaced. The internal culture is getting an overhaul.
Yes, there have been some horrible crimes committed by Uber drivers. If it has dragged its feet bringing them to light, it should be punished.
But those celebrating Uber's apparent cessation in London should think about the bigger picture.
Firstly, as is often the case with capitalist innovations, it's easier to overlook the massive way the company has improved life, just because it happens to make a profit.
Uber has facilitated millions of journeys in London – especially late at night or to out of the way places – that made living in this often difficult city easier. We're talking tens of millions of hours of lives better lived.
Then there are the attacks and similar. Nobody wants to write "yes, but" and consider the bigger picture when it comes to such things – but that's exactly what we should do.
Over the past two decades I have seen numerous friends – most often younger and arguably more vulnerable women – get into literally random cars on the street, despite my protests, for various financial and perceived safety reasons. Horror stories about rogue mini-cab drivers were ubiquitous until Uber arrived on the scene.
Are Uber-haters considering the alternative of going back to 2010 – many more people walking home late at night or getting into unlicensed cars at 3am drunk or similar because they can't find/afford a black cab or even a mini-cab?
I agree Uber has not been the greatest company culture-wise and they need to upgrade their practices. But the technology is revolutionary and it has transformed late night London. The fact that all Uber journeys are logged and linked to a user makes it far safer than most alternatives. TFL should be working to roll this out everywhere, not seeking to roll it back.
Uber should have been fined or put on some sort of official notice or similar. They should not exist outside of regulation. But there's no use being sentimental about it. Black cabs are as dead long-term as red phone boxes.
Let's hope this decision isn't the canary in the Brexit coal mine that Tyler Cowen at Bloomberg fears:
The new Britain appears to be a nationalistic, job-protecting, quasi-mercantilist entity, as evidenced by the desire to preserve the work and pay of London's traditional cabbies. That's hardly the right signal to send to a world considering new trade deals or possibly foreign investment in the U.K.

Uber, of course, is an American company, and it did sink capital into setting up in London — and its reputational capital is on the line in what is still Europe's most economically important city…

Unfortunately, the U.K. is in a position where it can't afford too many more mistakes. It just made one.
You can petition against TFL's decision here.
From Monevator
How online retirement calculators can mislead you – Monevator
From the archive-ator: Become your money hero – Monevator
News
Note: Some links are Google search results – in PC/desktop view these enable you to click through to read the piece without being a paid subscriber.1
UK credit rating downgraded over Brexit uncertainty [Search result] – FT
The silly pension lifetime allowance of £1m is starting to hit – Telegraph
Cars over 40-years-old will not need an MOT – Telegraph
The young are not ready for mortgage rates to rise – ThisIsMoney
The £230-a-year marriage allowance you could be missing out on – Guardian
Britain falls to 25th in the best buy-to-let destinations in Europe – ThisIsMoney
Ros Altman blames the rise of populism on QE [Letter] – via Twitter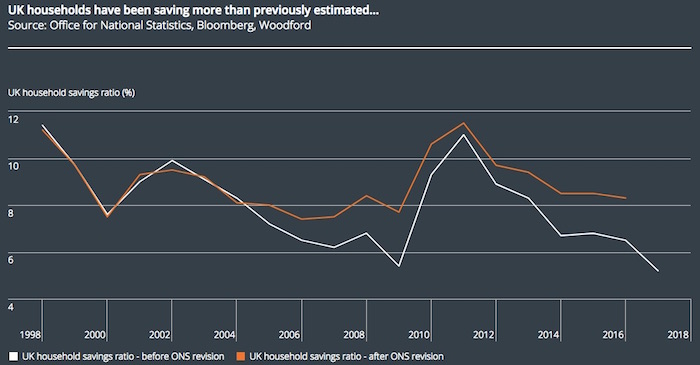 UK consumers are in better shape than most people think… – Woodford Funds
…oh no they're not, they're primed to blow – Guardian
Products and services
Coventry Building Society launches Best Buy 1.05% Easy Access ISA – ThisIsMoney
Advert boasts of 'safe' 15% returns: Should I invest? [Um…] – Telegraph
The true cost of zero-rate credit card deals [Search result] – FT
How Standard Life is changing the investments of 1m savers – Telegraph
Fix your mortgage before rates rise – ThisIsMoney
How to borrow interest-free for three and a half years – ThisIsMoney
ETFStream is a new site about… well, have a guess – ETFStream
Car financing continues to speed down a dangerous road – The Value Perspective
How to choose the 'best' (not the cheapest) investment platform – Telegraph
Remember Thriva, the sci-fi blood test dashboard solution? (Work with me here.) Not only will you get £10 off your first kit with the following link, you can use the code BLOOD50 at checkout to get a further 50% deduction – Thriva
Comment and opinion
Bet with Buffett on index funds, not against him – Barry Ritholtz
The lie of averages – Flirting with Models
Workplace pensions shouldn't be this much work [Search result] – FT
Social proof in the markets – A Wealth of Common Sense
ESG investing: Don't let the perfect be the enemy of the good – Abnormal Returns
Paranoid and deranged behavioural algorithms – Tony Isola
Emerging markets may be due for their comeback – Bloomberg
One spouse, two cars, three houses, four jobs – Financial Samurai
Why David Gardner invests in rule-breaking companies [Podcast] – Invest Like The Best
The humbling of former hedge fund star Hugh Hendry – E.S. [& me from 2009]
Back-testing Meb Faber's Trinity portfolio (Lite) – Allocate Smartly
Seek not to be entertained – MrMoneyMustache
Bitcoin has become about the payday, not the potential – The Mission
Who will look after you in your old age? – SexHealthMoneyDeath
Larry Swedroe: Dividend strategies fall short – ETF.com
Why cashing out of a short position the day before the 1987 stock market crash was actually a great trade – What Works On Wall Street
Off our beat
Make your point and get out of the way – Morgan Housel
What a computer has to say about writing a best-selling novel – Guardian
Immigrants are a boon to the US, not a burden – Bloomberg
And finally…
"Everyone thinks Goldman is so fucking smart," he railed. "Just because Goldman says this is the right valuation, you shouldn't assume it's correct just because Goldman said it. My brother works at Goldman, and he's an idiot!"
– Andrew Ross Sorkin, Too Big To Fail
Like these links? Subscribe to get them every Friday!
Note some articles can only be accessed through the search results if you're using PC/desktop view (from mobile/tablet view they bring up the firewall/subscription page). To circumvent, switch your mobile browser to use the desktop view. On Chrome for Android: press the menu button followed by "Request Desktop Site". [↩]