Some links that caught my eye this week.
Readers, I've got the blogger blues. Luckily for you I haven't got my guitar out. But most days for a while now…
I've woken up in the morning
Got over to my desk
Had an overdue post on Lifetime ISAs or tax or whatnot
Wanted to do something else instead
Baby, I got them blogger blues…
This is not surprising. Monevator will be ten years old this summer, and I recently wrote my 1,000th article. I've never committed to anything this long, except peanut butter and phoning my mum once a week.
I was going to widen out this tale of woe – our plunging ad revenues due to high mobile usage and ad blocking, the long absence of The Accumulator as he writes our book, my failure to turn Monevator into the next MoneySavingExpert, a friend recently hospitalized from stress due to overwork – but that's all by-the-by.
Bottom line: Something has to give to keep this ship afloat with everything else going on.
And Weekend Reading is it.
Why Weekend Reading is changing
For nearly ten years I've been at my desk by 8.30am on Saturday to finish this link roundup, which in practical terms has meant mostly no going out late on Friday and working for most of the past 500 Saturday mornings.
I've enjoyed it a lot, but I can't overlook the times I've worked from hotel rooms or friends' kitchen tables – or much more often stayed at home instead of taking that weekend break in the first place.
Most posts can be queued in advance, but topical links can't. That puts the cosh on spontaneous holidays. I could just skip the links every few weeks, but I'm a do-or-don't-do sort.
Other reasons to put Weekend Reading on the chopping block:
Tomorrow's fish and chips paper: Many of you love the links – this is by far the most popular kind of article in terms of initial impressions. But after a week nobody is reading. Other articles can be delivering value for years. I'm instinctively an investor, and these links are more like a cash crop.
Nobody does this anymore: When I began blogging a gazillion years ago, Facebook wasn't a thing and your social network was the people you'd buy a pint. Now almost no one does link lists. Very few sites even link out anymore from any articles. I've deliberately tried to support the best new UK investing blogs, but with a few exceptions (you know who you are! 🙂 ) not many sites send traffic here. At best most linking is on Twitter now.
The rest of Team Monevator cowers before it: An obvious solution to get me the odd weekend off would be to outsource the roundup to other writers. But it might as well be radioactive – it's just too daunting to keep abreast of 100-odd websites each week.
It's grown too big: Totally my fault. It means it takes several hours to create but more to double check. I've been a stickler for tidy formatting, too.
Now you know the background, here's how it's changing.
Weekend Reading is dead. Long live Weekend Reading!
I did consider scrapping Weekend Reading entirely, but two minutes with Google Analytics shows many thousands of people would be disappointed.
And what's this blog for if it's not to create a useful resource for many thousands of people?
Instead, a compromise:
Post links on Friday afternoons: This gives me my Friday nights back, and enables weekends away. A big win. It does mean we'll lose the Saturday morning paper links.
A more idiosyncratic list: I can no longer claim this will be a comprehensive review of the Internet's best money stories. Rather, it's articles I've read and found useful.
Less formatting: I'm ditching nice bullet points and all but a few big sub-categories. Sounds trivial, but will probably save an hour.
More personalised: From now on I'm going to try not to write big prose intros (like this one) for Weekend Reading, but rather get straight into the links. However I'm also going to editorialize a bit more. Some of you will hate this, but others may find it more interesting (including me!)
Less blog promotion: With regret I will dial back the traffic I deliberately send to smaller blogs in order to save time and attention. I will still read them, and try to highlight their best articles.
Team Monevator: I'm hoping doing a shorter list (5pm update: I've failed this week!) that's produced on Fridays might help me recruit someone else to do the job every few weeks.
This explanation might seem a bit self-indulgent. Who cares? Show me the links already!
However some of you have been reading Monevator for nearly a decade, and I know from your emails that perusing Weekend Reading has become a ritual. So I wanted to explain why it's changing.
Hope you understand, and have a great weekend!
Note: Some links are Google search results – in PC/desktop view these enable you to click through to read the piece without being a paid subscriber.1
News
Lloyds, Halifax, and Natwest all hit by online banking glitch – ThisIsMoney
Northern cities see fastest house price growth for 12 years, but the south stalls – ThisIsMoney
London rents are falling, too. So much for buy-to-let pricing power – Guardian
Uh oh: UK GDP growth slowing as shoppers stop shopping – BBC
Double lock: Theresa May ponders ditching the 2.5% minimum annual pension raise. Might make State pensions more affordable and halt the upward creep in the pension age. (I need to write about what fairness means when it comes to pensioners. Is it right that minimum wage earners are busting their guts to see their real incomes decline while pensioners' incomes are guaranteed to rise? Didn't many – not all – pensioners have the chance to live more frugally, save, and invest over their long lives?) – Guardian
That said I definitely think the State pension should remain universal, whatever the OECD says about halting it for the richest. (Better to tax them instead) – Guardian
I've been increasing my (modest) investments in unlisted EIS companies, but it hasn't been enough to stop total EIS investment slumping 12% on tighter rules [Search result] – FT
New study finds cash in the bank is a better predictor of happiness than income [PDF] – Report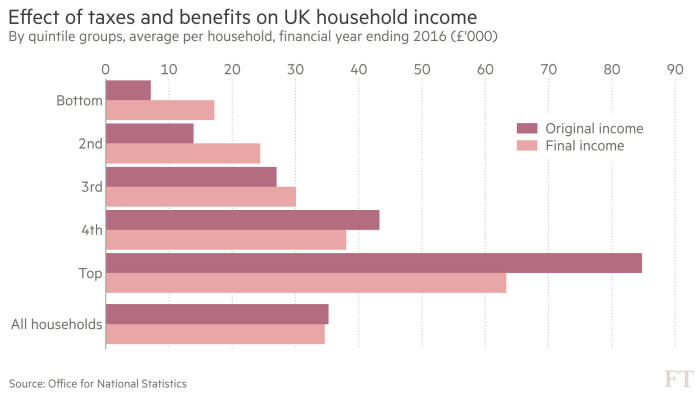 How state benefits help the UK income gap shrink [Search result] – FT
Products and services
Premium Bond changes mean you'll need to wait 55,000 years for a jackpot – ThisIsMoney
The price of honesty in financial services? Triodos Bank has just launched a new current account offering 0% interest and a £3 monthly charge – Triodos Bank
Fancy a 2.2% interest rate? You'll need to tie up your money for seven years – Shawbrook Bank
Remember Thriva, the sci-fi blood test dashboard solution? (Work with me here.) Not only will you get £10 off your first kit with the following link, you can use the code ITSAPRIL at checkout to get a further 50% deduction – Thriva
Comment and opinion
Index funds are finally sexy. What a shame – Bloomberg
Don't throw away your final salary pension [Search result] – FT
Just say no to Angel investing – Financial Samurai
Holding on in a bull market is hard – Ben Carlson
The 2015 Finance Act means companies can no longer offer dividends as capital – Telegraph
Early retiree mistaken for master of the universe – Simple Living in Suffolk
Josh Brown says he knows what bust the Dotcom boom – Reformed Broker
Why early investing is important: A reminder – Of Dollars and Data
Other interesting bits and bobs
Graphic: The relationship between fees, size, and performance for US fund managers – Twitter
How online shopping makes suckers of us all – The Atlantic
Can Britain pull together to get fit for Brexit? – CapX
Globalization: Trade rising again, reports of death premature – Bloomberg
Merkel warns Britons to ditch their Brexit illusions – Reuters
When Elon Musk got divorced, he only kept his Tesla shares due the kindness of is his fellow billionaires – CNBC
The Vauxhall Brexit is the perfect car for John Redwood and his ilk – Twitter
And finally
"The problem is that decades roll by and life gets busy, and if no-one challenges the negative 'scripts' that auto-play in your head whenever you stuff something up or get rejected, those teenage beliefs bed down, compound, and become ingrained – they become who you are. And they slowly but surely eat away at your self-confidence, keeping you locked in a job you've lost interest in, relationships you've outgrown, and a financial state that stops you from experiencing life on your terms." – Scott Pape, The Barefoot Investor
Like these links? Subscribe to get them every Friday!
Note some articles can only be accessed through the search results if you're using PC/desktop view (from mobile/tablet view they bring up the firewall/subscription page). To circumvent, switch your mobile browser to use the desktop view. On Chrome for Android: press the menu button followed by "Request Desktop Site". [↩]