What caught my eye this week.
Jason Zweig is an investment writers' writer – the man my co-blogger The Accumulator models himself after, and the author of the only book @TA ever gave me as a present. (I'm hopeful the second one will be the completed draft of the Monevator guide to investing…)
Why, you might ask, does The Accumulator hold Zweig in such high esteem that he keeps a mugshot of the guy above the desk in his study, dotted with gold stars and a fake signature he forged by squinting his eyes and thinking of exorbitant expense ratios? (Probably).
I suspect it's because the US veteran author has a similar ability to turn dry financial matters into pithy words of wisdom.
For a taster, here's a few lines Zweig shared the other day:
In investing, as in life, too many people confuse wishes for beliefs and beliefs for evidence. Things aren't valid just because you want them to be.
As you "learn" more, if your confidence doesn't go down before it goes up, then you probably aren't learning.
The future isn't a straight line you can extrapolate from the past. The future is a storm into which we are blown backwards.
Walk as often as you can through the graveyard of your dead beliefs, especially the ones you murdered by your own hand.
Investing is a profoundly lonely activity, and it's hard to pick your way through endless minefield of bullsh*t and boobytraps that the financial industry lays down unless you find a community of other investors at least as smart as you.
Those aren't even particular meant as pithy one-liners by the way – they are all teasers to full articles that Zweig has written before.
See his post for the links – and set aside a couple of hours to devour them.
From Monevator
Who's right about London commercial property – the suits in hard hats or the ones in the City? – Monevator
From the archive-ator: Why we must all think long-term – Monevator
News
Note: Some links are Google search results – in PC/desktop view these enable you to click through to read the piece without being a paid subscriber.1
Dividend tax proposal threat to rich savers and company owners [Search result] – FT
US launches criminal investigation into Bitcoin price manipulation – Bloomberg
Call to end emergency tax on pension lump sums [Search result] – FT
Noel Edmonds hijacks Lloyds AGM to accuse bank over £1bn fraud cover-up – ThisIsMoney
London house prices in worse annual slowdown since 2009… – ThisIsMoney
…as number of home owners in England rises slightly for first time since 2004 – Property Wire
Warning over "money flipping" Ponzi schemes on social media – ThisIsMoney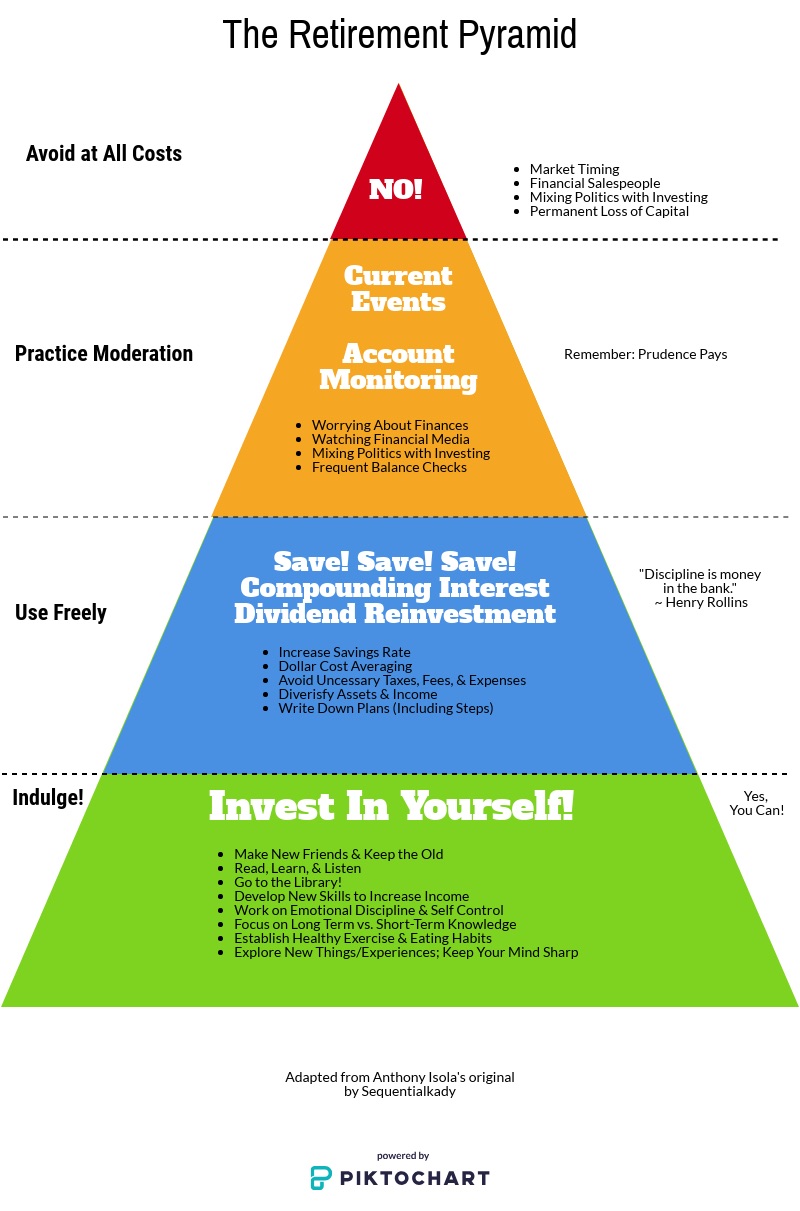 Retirement Pyramid 2.0 – A Teachable Moment
Products and services
Did you know you can get a no-claims discount on home insurance? – ThisIsMoney
Reputation of hedge funds hacked back hard [Search result] – FT
Survey of pension millionaires reveals they own a lot of active funds – ThisIsMoney
Starbucks is beating Apple and Google in mobile payments – Quartz
An interesting interview about the state of ETFs and market tracking – ETF.com
What conditions and treatments aren't free on the NHS, and what do they cost? – Telegraph
RateSetter will pay you £100 (and me a bonus) if you invest £1,000 for a year via my affiliate link – RateSetter
Comment and opinion
How to build a low-risk, high-yield portfolio of shares – UK Value Investor
Why it makes sense to invest in Government bonds [Search result] – The Economist
More: Do long-term investors need bonds? – A Wealth of Common Sense
What is the point of fund platforms? – Pension Playpen blog
The market-timing game – Crossing Wall Street
All the money in the world – Fire V London
Fund managers and the illusion of skill – Rick Ferri
Philip Carret on forecasting market swings – Novel Investor
Fascinating interview with economist Jim Rickards [Podcast] – Part 1 & Part 2
European companies just aren't growing earnings like their supposedly over-valued US counterparts – Wall Street Journal
Why did Walmart buy India's Flipkart, and will it pay off? – Musings on Markets
What venture capitalists actually care about when you're raising money – Fast Company
Also: How much should you raise as your business grows? – Fred Wilson
Kindle book bargains
Total Competition: Lessons in Strategy from Formula One by Ross Brawn and Adam Parr – £0.99 on Kindle
Surely You're Joking Mr Feynman: Adventures of a Curious Character – as told to Ralph Leighton – £0.99 on Kindle
Talking to My Daughter About the Economy: A Brief History of Capitalism by Yanis Varoufakis – £1.99 on Kindle
Doughnut Economics: Seven Ways to Think Like a 21st-Century Economist by Kate Raworth – £1.99 on Kindle
Brexit: Still going better than anyone could have imagined
Mark Carney: Brexit already has households £900 a year worse off – BBC
EU talks with Australia and New Zealand deal blow to UK free trade plans – Guardian
How Britain's departure from the EU stretches to mid-2020s [Search result] – FT
HMRC estimates Brexiteers preferred customs system could cost £20 billion a year – BBC
Why a French philosopher wants to stop Brexit [Search result] – FT
Polluting UK being sued by ECJ claims leaving EU will improve our air – via Twitter
Ex-mayor of Ipswich denied residency after 40 years in the UK – The Guardian
Off our beat
How Britain let Russia hide its dirty money – The Guardian
Electric scooter charger culture is out of control – The Atlantic
The Pygmalion effect: Proving them right – Farnham Street
And finally…
"The fact that making money from money is ultimately easier than making money from work is entirely logical when you consider that you only have a limited number of hours to work. On the other hand, your money "never sleeps", as the old saying is quite right in telling us."
– Andrew Craig, How to Own The World
Like these links? Subscribe to get them every Friday!
Note some articles can only be accessed through the search results if you're using PC/desktop view (from mobile/tablet view they bring up the firewall/subscription page). To circumvent, switch your mobile browser to use the desktop view. On Chrome for Android: press the menu button followed by "Request Desktop Site". [↩]