What caught my eye this week.
Ben Carlson has no truck with the gathering notion that ETFs will destabilize the markets, swindle active managers out of their dues, damage the economy, and cause kittens and puppies to be sad.
Writing in Bloomberg, Carlson notes:
Those who are concerned that indexing is causing a market bubble don't realize that active investors have had no trouble doing so in the past when index funds didn't exist.

There were no index funds during the Roaring 20s that led to the Great Depression nor in the go-go years in the 1960s that led to the Nifty Fifty blow-up.

These funds had nothing to do with the brutal 1973-74 bear market because they weren't even invented until 1976.
I entirely agree. Most of you don't watch much financial news. You don't regularly hear pundits saying when the market has fallen 0.5% in a day that it's down to "all the algos and robots and passive dumb money mindlessly driving volatility in the market".
Markets have always gone up and down. Prices of assets with uncertain future returns will always be volatile.
The only threat we can yet be sure of from ETFs and other index funds is to the financial industry's bottom line.
From Monevator
Low-cost index trackers that will save you money – Monevator
What to do with old pension plans – Monevator
From the archive-ator: Investing for 100-year olds – Monevator
News
Note: Some links are Google search results – in PC/desktop view these enable you to click through to read the piece without being a paid subscriber.1
FCA says 'intervention' may be needed after pension freedoms [Search result] – FT
Government goes ahead with pension tax relief cut for over-55s – Telegraph
RICS: House price growth slowing, mostly in London – ThisIsMoney
Santander rights issue: Tips for estimated 1.4m UK shareholders – Telegraph
Couple use bargain-minded strategy to live debt-free and retire at 40 – LAD Bible
Wealth inequality may be worse than previously thought – The Economist
Yale's 367-year old water bond still pays interest – Yale News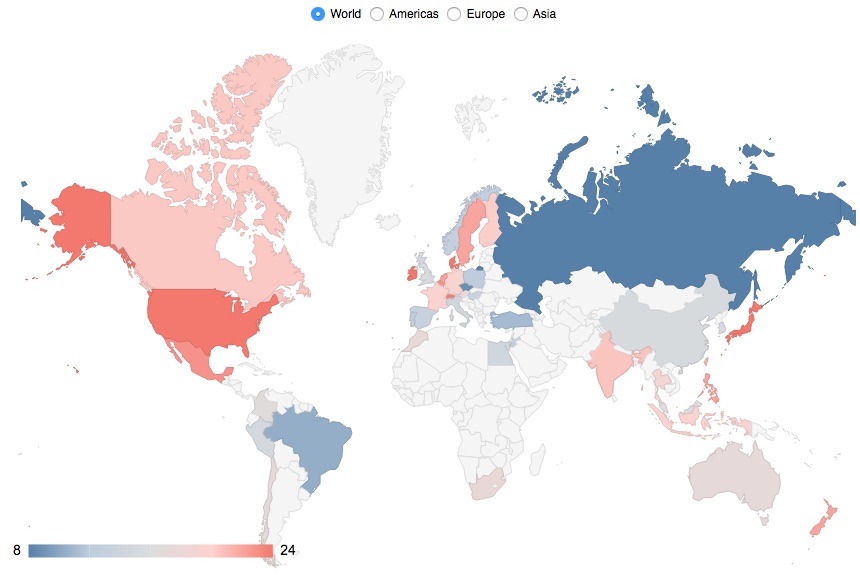 Global stock market valuation ratios at June end [CAPE above, blue is 'cheaper'] – Star Capital
Products and services
Should you invest in Britain's ideas factory? [Search result, on VCTs] – FT
Lloyds shakes up overdraft fees, but still charges some borrowers 52% – Telegraph
Skipton offers 0.99% two-year fixed mortgage, but there's a £1,995 fee – ThisIsMoney
New Best Buy savings bonds pay just 0.01% more than rivals – Telegraph
Ford Money and RCI lead the way for easy-access savings accounts – ThisIsMoney
Comment and opinion
An interview with passive investing champion William Bernstein [Podcast] – Meb Faber
Fund management's future? Milking cows – Bloomberg
Go where nobody else will – Mullooly Asset Management
Wanna get rich? Think fractally – Of Dollars and Data
It's the little things that can colour an investor's outlook – Jason Zweig
Risk, return, and skill in the portfolios of the wealthy [Research] – VoxEU
There will always be some market-beating funds. That's not the point – T.E.B.I.
An expert's guide to calling the market top [Chortle] – Bloomberg
How equities took over asset allocation – Ben Carlson
This review of How to Retire at 40 is unfavourable, like the others I've seen. Was the premise too wacky for mainstream TV? – Telegraph
Buffett has his own hedge fund managers working at a discount – Motley Fool US
Think like a supermodel if you want to win from the gig economy [Search result] – FT
House prices outside London are fair value – The Value Perspective
It's a wonderful loaf [Poem about the market] – Wonderful Loaf
Was Woodford right to sell GlaxoSmithKline and hold AstraZeneca? [PDF] – John Kingham
Get rich with perspective (part two) – The Escape Artist
Off our beat
Dating secrets of a hot hedge fund manager [Forwarded by an ex…] – Tatler
Man outwits student loans company by staying poor forever – The Daily Mash
Brexit
Britain finally concedes in writing it will have to pay an EU exit bill – Bloomberg
Your country needs you: Britain's patriotic Brexit act [Search result] – FT
The OBR makes the point I've been trying to make for a year – that the economic hit from Brexit isn't an upfront catastrophe, it's the potential slow bleed that (to me, anyway) seems inevitable from less efficient trading: "More important are the implications of whatever agreements are reached with the EU and other trading partners for the long-term growth of the UK economy, which we do not attempt to predict here. If GDP and receipts grew just 0.1 percentage points more slowly than projected over the next 50 years, but spending growth was unchanged, the debt-to-GDP would end up around 50 percentage points higher." – ThisIsMoney
Shoppers "in the dark" about Brexit affect – BBC
Latest reminder of the logic that's mostly behind our self-inflicted exit [via 3652 Days]:
And finally…
"Near the front of this book there was a copyright notice. It tells you that while this book belongs to you, the words in the book belong to me. What does that even mean? It's the result of a meta-invention, an invention about inventions – a concept called 'intellectual property'. Intellectual property has profoundly shaped who makes money in the modern world."
– Tim Hartford, Fifty Things That Made The Modern Economy
Like these links? Subscribe to get them every Friday!
Note some articles can only be accessed through the search results if you're using PC/desktop view (from mobile/tablet view they bring up the firewall/subscription page). To circumvent, switch your mobile browser to use the desktop view. On Chrome for Android: press the menu button followed by "Request Desktop Site". [↩]