What caught my eye this week.
One of the most easily spotted and ever-repeated psychological errors we make is recency bias. This is the tendency to believe that what has happened lately will continue forever.
You see it all the time in comments here. To give just three examples:
In 2008 and 2009, loud commentators called me irresponsible for saying it was a good time to invest while markets were cheap and fearful. They urged other readers to keep their money in gold and/or under the mattress.
When emerging markets were doing well a few years ago while developed world shares were in the doldrums, putting any money to work in the US or (god forbid) Europe was considered the mad folly of an old fogey who had never heard of Samsung.
American friends told me to steer clear of US house builders because the upcoming millennial generation all liked renting and – apparently – living in their parents' basements. I wanted to invest with a US friend directly into US property as that economy began to recover but he was gun shy. Now the US housing market is booming, and millennials want their own homes. (A similar story can be written in the UK – see my post on UK home builders from late 2011).
Of course, I can be as prone to recency bias as much as anyone. But by definition it's easier to see it in other people.
Onwards, downwards, and upwards
Recessions are a great time for students of recency bias to pull up a stool, crack out a soda, and start taking notes.
People are invariably gloomy during recessions, and they've often lost money. Many are scared. Jobs go among family and friends, if not your own. Commentators lament that we'll never again see a summer of easy access 0% credit cards, people quitting the office to day shares from their bedrooms, or exuberant articles about rampant retail spending illustrated with a young woman carrying five or six brightly coloured bags of cheap clothes down Oxford Street.
Yet things do bounce back. The economy does recover. Stock markets usually sniff it out sooner, and begin to climb 6-12 months in advance.
In the long-run (short of rare catastrophes) things aren't so bad.
This is well illustrated by this pair of graphs highlighted this week by The Value Perspective:
Ready to have your mind blown? These two charts show the same thing:
One may look deeply volatile and scary and the other smooth and reassuring but they actually both represent the same information.

The chart at the top shows how US gross domestic product (GDP) numbers have bounced around since the end of the second world war while the chart on the bottom shows the cumulative effect of that – the actual nominal growth of the US economy in that time.
This is what I keep trying to explain to people about my views regarding Brexit. I expect volatility short-term – we're already seeing that – and with respect to the second chart I expect our slope to be less steep than it would have been.
But we'll still grow, eventually, over the long-term. It's just we'll probably have slower growth, and lower total output, and hence a lower standard of living and so less money to spend on the NHS and so forth than we would have. All for very little gain.
To tie this back to investing, here's one of my all-time favourite graphics from Portfolio Charts.
Take a look at the graph and ask yourself which of the scenarios – represented by the three colored lines – would you prefer to have invested through?
Ready to have your mind blown, again? They all show the same returns!
To quote Portfolio Charts:
If you're like me, the yellow portfolio intuitively seems to have the lowest volatility and the magenta option seems downright terrifying.

Well guess what — they all have the identical average return and standard deviation!

The blue series is taken from a real fund. The magenta series takes the exact same returns numbers and simply reorders them from worst to best while the yellow series juggles them to stay as flat as possible.

While the order of returns has a massive effect on the personal experience of the investor, it has no impact at all on the standard deviation calculations.
Please do ponder the first two graphs of US GDP and this third graph showing how sorting returns changes our perception of risk. This is brain food for investors.
Have a good weekend!
From Monevator
Quick Budget discussion from an investor's point of view – Monevator and Comments
From the archive-ator: Become your money hero – Monevator
News
Note: Some links are Google search results – in PC/desktop view these enable you to click through to read the piece without being a paid subscriber.1
Tax man's new powers to raid salaries are hidden in the Budget – ThisIsMoney
First-time buyers using shared ownership risk missing stamp duty exemption – Telegraph
'Patient capital' plan could unlock pensions savings limits [Search result] – FT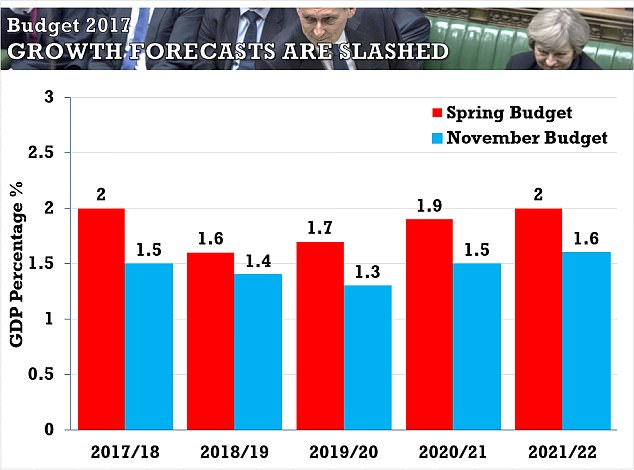 [For what it's worth] OBR growth forecasts have been slashed – ThisIsMoney
Products and services
What happens when you invest in a tracker? A day at Vanguard's office – Telegraph
Discount railcard extended for people up to age 30 – BBC
Buy-to-let lenders are relaxing lending standards – ThisIsMoney
How to tell if you're a first-time buyer to qualify for stamp duty cut – Guardian
The UK's hidden one-child-per-family university policy [Search result] – FT
Meet the first-time buyers handed a Budget windfall – ThisIsMoney
ISA limit unchanged, but JISA and lifetime pension allowances up – CityWire
Hargreaves Lansdown now has one million customers – Hargreaves Lansdown
Comment and opinion
Retirement: It's not about the money – Of Dollars and Data
An alternative, rational UK Budget – Fire V London
The fund industry's brain drain – Morningstar
All the right reasons – Humble Dollar
Simon Lambert: All movers need help with stamp duty – ThisIsMoney
Early retirement: Easier said than done – 3652 Days
The charmed life of a thankful investor – Portfolio Charts
Congratulations! You've won the lottery! – The Escape Artist
Beware the illusory superiority of active funds – Invest with ETFs
When tail risk isn't tail risk – Cullen Roche
Why fund management firms are promoting younger CEOs – Institutional Investor
Mr Money Mustache, Uber driver – Mr Money Mustache
Capital light compounders, with Connor Leonard [Podcast] – Invest With The Best
Off our beat
The perils of crowdfunded innovation – David Bland via [Abnormal Returns]
The year of living dangerously – Josh Brown
A statistical analysis that explains the history of popular music – Quartzy
The financial realities of going viral – Lucy Bellwood
And finally…
"Planning for retirement involves taking an inventory of not only your finances, but also your skills, your health, your friends, your family, your marital status, your interests, and your dreams. You must design a retirement plan based on your personal situation, and then implement it to the best of your ability."
– Ernie Zelinski, How to Retire Happy, Wild, and Free
Like these links? Subscribe to get them every Friday!
Note some articles can only be accessed through the search results if you're using PC/desktop view (from mobile/tablet view they bring up the firewall/subscription page). To circumvent, switch your mobile browser to use the desktop view. On Chrome for Android: press the menu button followed by "Request Desktop Site". [↩]