What caught my eye this week.
The IT Investor has a honeypot of a post up this week for active investing junkies. He's dived into his investment trust data to sieve out what he's calling 'double doublers' – investment trusts that doubled their share price in the first half of the last decade, then did it again in the second.
It sounds spectacular – it is – but qualification requires 'only' about a 15% return a year. You could have got a slightly better return from a US S&P 500 index fund, and many passive investors did.
The best double doublers did even better though, and the result is catnip for an active investing sinner like me. (Reminder: it's my co-blogger The Accumulator who is Mr Passive).
Here are IT Investor's top five double doublers: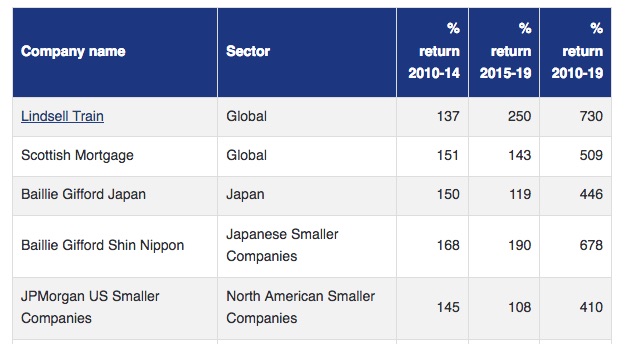 What's particularly galling is I owned four of these five trusts at some point in the last decade – but I hung on to none of them for anything like ten years.1
The curses of active investors are indeed many and various. They're not just down to the fact it's a zero sum game, which guarantees net disappointment for average pot of money, after costs and fees. There's also the way that even when you get it right, sooner or later it turns into wrong.
How so?
Well maybe you sell too soon. Or maybe you realize you should have bought more. Or dozens of variations on the theme. Stock picking is not a hobby for anyone who occasionally brings a box of old love letters down from the attic to tearfully wonder what might have been.
But it's not a game for those who wouldn't even keep the letters of their old flames, either. If you're that rational, buy the market!
I did it my way
Despite all this, until we grow bored or are physically restrained, some unfortunates like me will always be there to continue the quixotic quest of trying to beat the market. If you want more ways to understand why, Robin Powell tackles the subject in a guest post on Humble Dollar this week.
Robin cites Meir Statman, a finance professor at Santa Clara University, who gives several good (/bad) reasons including this particular bugbear of mine:
Many investors, Statman says, frame their returns relative to zero, rather than relative to the market return — the performance they could have earned by investing in a low-cost index fund.

"A 15% annual return is excellent," he says, "but it is inferior when an index fund delivers 20%."
It's been at least a decade since I've taken seriously any active investor who doesn't benchmark properly. Yet go to a meet-up and you'll find they abound.
Perhaps that's because as the wonderfully-named Professor Statman says, many of us:
…need to feel that we're better than average.
And nobody active investing to that end wants a number telling them otherwise!
Have a great weekend.
I currently own only Lindsell Train off this list. [↩]