What caught my eye this week.
I think sequence of return risk is perhaps the least discussed Most Important Thing about investing.
That's probably because it doesn't impact professionals so much.
Big institutions such as pension funds and endowments typically have an infinite time horizon. There's no cliff edge for them where they move from saving to spending – which is the cut-off point where sequence of returns risk can do the most damage.
Individual fund managers? Well, they do face a related career risk. The best thing for a poor-to-average fund manager is to achieve your great returns early on, in order to attract a lot of assets. You can then revert to the mean with your mediocre-to-bad years later, when you're earning a fat fee on all those billions.
Of course this is the opposite of what would be best for the average investor in that fund, but that's a topic for another day.
Anyway Ben Carlson of the Wealth of Common Sense blog published an excellent deep dive into sequence of return risk this week, noting:
The sequence of returns in the markets is something we have no control over.

Some investors are blessed with weak returns in the accumulation phase and strong returns when they have more money, while others are cursed with brutal bear markets at the outset of retirement or markets that go nowhere when they have a bigger balance.

Luck plays a larger role in investment success than most realize since we each only have one lifecycle in which things play out.
Oh yes, that's yet another reason why we don't hear much about sequence of returns risk – there are no perfect ways to counter it. Even the good and sensible ones are likely to sap your returns. (Like diversification, however, they can still be perfectly sensible things to do).
See Ben's full article for some ideas on managing sequence of returns risk.
And have a great Bank Holiday!
From Monevator
I know, another week with no new content. I'm disappointed, you're disappointed. Let's get through the summer and see how we feel then? In the meantime…
From the archive-ator: Lump sum investing versus drip-feeding – Monevator
News
Note: Some links are Google search results – in PC/desktop view these enable you to click through to read the piece without being a paid subscriber.1
Retire today and you're 46% worse off than 10 years ago – Telegraph
UK growing at half the rate of Eurozone [Will they let us back in?] – Independent
The latest ups and downs of the UK housing market – Guardian
Millions of taxpayers sent warnings about offshore accounts [Search result] – FT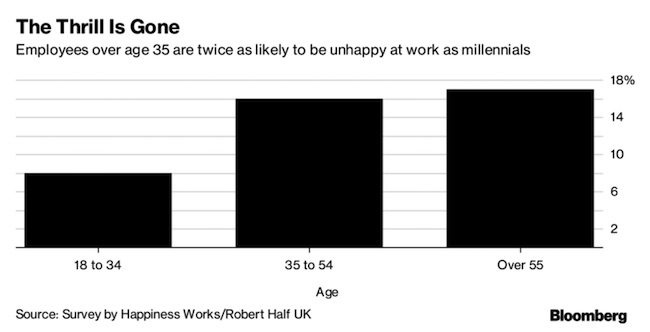 People start hating their jobs when they hit 35 – Bloomberg
Products and services
Atom Bank has four new Best Buy savings deals [Move quick, won't last] – ThisIsMoney
NS&I is scrapping Children's Bonds – Telegraph
Which? finds people trust banks more than pension products [Search result] – FT
How to claim mis-sold PPI for free – Guardian
Pension firm introduces equity release to the buy-to-let sector – Telegraph
Ford offers a £5,000 diesel scrappage scheme amid Government inertia – ThisIsMoney
The postcode lottery of pet insurance [Search result] – FT
Where to get more foreign currency for your Brexit-battered pounds – Telegraph
How to finance a home extension – Guardian
Comment and opinion
Your financial life is complicated, your portfolio shouldn't be – Morningstar
In reality it's hard to buy when there's blood on the streets – Of Dollars and Data
A look at UK Robo Advisors – DIY Investor
Has Neil Woodford lost it? – The Evidence-based Investor
Probably: The cult of the portfolio manager is over – Morningstar
Stop frugality leading to lifestyle deflation – Financial Samurai
Change the portfolio, or change the investor? – Daniel Egan
The investing opportunities presented by climate change [PDF] – GMO
An interesting article for stock pickers on improving their process – SumZero
Beware: Portfolios built with ETFs do worse on average [PDF, research] – Alpha Architect
Beware the 'billionaire bears' – The Macro Tourist
Behavioural bond bucketing [Note: US 'CDs' are *a bit* like UK bank savings bonds] – Abnormal Returns
It's not you, it's me [Long article on mental biases and other failings] – Above the Market
39 lessons from three favourite investing books – UK Value Investor
Why retire at 43 then go back to work at 45? – The Matrix Experiment
Holiday in Siberia – SexHealthMoneyDeath
Off our beat
More evidence that being middle-aged is the worst – Quartz
Silent threats in the night: A forgotten memory until Charlottesville – Financial Samurai
Weird! Someone praising the London Underground – Business Insider
And finally…
"Governments and peoples do not always take rational decisions. Sometimes they take mad decisions, or one set of people get control who compel all others to obey and aid them in folly."
– Winston Churchill, The Grand Alliance Vol. 3
Like these links? Subscribe to get them every Friday!
Note some articles can only be accessed through the search results if you're using PC/desktop view (from mobile/tablet view they bring up the firewall/subscription page). To circumvent, switch your mobile browser to use the desktop view. On Chrome for Android: press the menu button followed by "Request Desktop Site". [↩]