What caught my eye this week.
Passive investors who dabble with the value factor and wannabe Warren Buffetts alike know that every few years, the 'value is best' mantra gets kicked into the long grass.
Value investing – basically buying cheap companies and ideally shorting expensive ones – has a great long-term record. However sometimes it performs like an elephant on LSD, crushing your returns.
Indeed, one theory for why value investing works is that these periods of under-performance are so miserable, few people can stick through them.
The years after the financial crisis were not kind to value investors. Slow growth and low inflation among other things made growth stocks the place to be.
But that changed in 2016, particularly in the US as this rather beautiful graph from a new GMO PDF demonstrates:
The market got giddy about Trump going on a spending spree, it looked like interest rates were headed higher and faster, and outside of Brexit-blighted Britain, growth accelerated.
However it wasn't to last, as GMO demonstrates in the following graph:
Value players might have expected a few years in the sun after their years in the – um – desert, but the market has turned around and undone the progress they made in 2016.
But the authors' urge value disciples to hang tight:
While underperformance is never pleasant, we believe there are "good" and "bad" ways for a value investor to lose over a short time horizon.

The first 5 months of 2017 likely fit into the "good" category: The valuations for growth stocks are now pricing in earnings levels that are in excess of analysts' expectations and the market is applying ever-expanding multiples to growth stocks while global profit margins continue to hover around record highs.

This is all classic preamble to value outperforming as an expensive market retreats to lower valuations.
It's an interesting paper if you're an active investor like me.
If you're a passive investor who includes value funds in your portfolio, though, then arguably you shouldn't be reading stuff like this.
You'll probably do better to keep plugging money into your lagging value funds year in and year out, and trust in the long-term charts that led you to tilt to value in the first place.
From Monevator
Investing for beginners: The global stock market – Monevator
Dividends for the long run – Monevator
How to stress-test your plans with a Monte Carlo simulation – Monevator
News
Note: Some links are Google search results – in PC/desktop view these enable you to click through to read the piece without being a paid subscriber.1
Three Bank of England members vote for higher interest rates – BBC
UK supermarket shares fall as Amazon buys upmarket US grocer Whole Foods – ThisIsMoney
Student debt tops £100bn for the first time – Guardian
Norfolk is a hot spot for online dating fraud, but investment scammers scam Surrey – Guardian
Only 10% of trading volume today is traditional stock picking, finds JP Morgan – CNBC
Israel's Mossad spy agency looking to invest in technology start-ups – Haaretz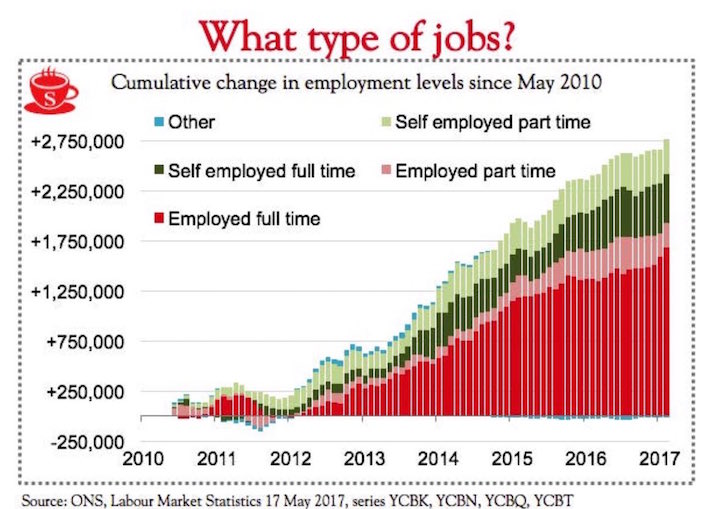 Actually, most new jobs created have been full-time, says Fraser Nelson and the ONS – Twitter
Products and services
Zopa's innovative finance ISA is here. Zopa is rebating the cost of moving funds during July – Zopa
Family Building Society's 'Brexit Bonds' pay 1%, plus a 2% bonus if Brexit goes your way – ThisIsMoney
Top cash reward for switching banks jumps to £295 – Telegraph
Eon's 'Cap and Track' energy tariff isn't the very cheapest, but should stay competitive – ThisIsMoney
Saving rates on fixed-rate cash 'bonds' have risen (off the floor) – Telegraph
A simple conversion cable that turns a streetlight into an electric car charger – ThisIsMoney
Got £12m to spare? Here's what it buys you in the way of luxury Maldive mansions – Guardian
Comment and opinion
A good enough portfolio is the most important thing – The Irrelevant Investor
Keep on investing as the market rises – Of Dollars and Data
Pensions are legal tax havens, use them while they last [Search result] – FT
The old are eating the young – Bloomberg
The all-new standard of living [Podcast] – ThisIsMoney
How to create a retirement policy statement – Morningstar
Evidence-based investor is asked to leave conference after upsetting the sponsors – T.E.B.I.
Merryn: Boring investing – that's the future [Search result] – FT
If Jim Rogers predicts a crash every year, one day he'll be right – AWOCS
My journey to a million pound portfolio – UK Value Investor
The seduction of pessimism – Collaborative Fund
Retirement is squishy – White Coat Investor
Off our beat
Those who leave home, and those who stay [US but obvious EU Referendum parallels] – Vox
Guy Verhofstadt wants answers from the British on Brexit – Twitter
Want to have more time? Clear social media apps off your phone – Raptitude
No, Peter Thiel is not harvesting the blood of the young – TechCrunch
The robot apocalypse won't come tomorrow… – The Value Perspective
…but this bot that describes undiscovered planets is quite a poet – Twitter
And finally…
"However, once technology enables us to re-engineer human minds, Homo sapiens will disappear, human history will come to an end and a completely new kind of process will begin, which people like you and me cannot comprehend. Many scholars try to predict how the world will look in the year 2100 or 2200. This is a waste of time. Any worthwhile prediction must take into account the ability to re-engineer human minds, and this is impossible. There are many wise answers to the question, 'What would people with minds like ours do with biotechnology?' Yet there are no good answers to the question, 'What would beings with a different kind of mind do with biotechnology?'"
― Yuval Noah Harari, Homo Deus: A Brief History of Tomorrow
Like these links? Subscribe to get them every Friday!
Note some articles can only be accessed through the search results if you're using PC/desktop view (from mobile/tablet view they bring up the firewall/subscription page). To circumvent, switch your mobile browser to use the desktop view. On Chrome for Android: press the menu button followed by "Request Desktop Site". [↩]