What caught my eye this week.
A few years ago the Financial Times published an article about students and money that caught fire and went viral.
I can't even remember whether the gist was eat fewer avocados or mount the barricades and challenge the system. But I did notice it seemed to lead to a change in editorial tone.
Perhaps it was a coincidence or a staff change, but the personal finance section (which I've been reading since I was a 20-something myself) definitely took a lurch to the sympathetic. A cynic might say the FT was chasing new traffic it hadn't known was there. I suspect it realized even its uniquely affluent young readership felt under the cosh.
Now, I know not every Monevator reader of a certain age has made that leap.
However personally I do believe – financially-speaking – that it's tougher now for most aspirational young people than for many decades.
No, not tougher than it was for a miner's son wanting to follow his father down the pit in the Valleys in the early 1980s – nobody is claiming that.
But far harder for an averagely studious young person to achieve averagely good grades and get a middle-of-the-road job and end up with a house and 2.4 kids on anything like an average street in an average town.
And at the end of the day, for most people for right or wrong that's what it's all about (including virtually all those older folk who say "let them eat rent!")
Money saving experts
Anyway, all that's a long-winded way of saying that the FT's Millennial Thrift special this week has lots of tips on saving money, many with a digital dint.
Some even work if you're an old lag like me. Especially as there's a London slant.
Go check out all the tips at the Financial Times [search result], and if you've got any that aren't mentioned then feel free to add them in the comments below.
(Let's only have a couple of obligatory sarcastic Viz knock-off tips please! 😉 )
As to whether saving £8 on a movie ticket or getting a cheap pizza is a sustainable solution to homes priced at 20-times local earnings… well that's a debate for another day.
Oh yes: Come on England!
From Monevator
Investing for beginners: Uncompensated risk – Monevator
From the archive-ator: Thoughts on a very British housing crisis at Northern Rock – Monevator
News
Note: Some links are Google search results – in PC/desktop view these enable you to click through to read the piece without being a paid subscriber.1
'Bleak and crippling year' for UK High Street: Store sales fall for fifth month in a row – ThisIsMoney
Britons may be able to claim billions more in PPI compensation – ThisIsMoney
Brace for a lost decade in US stocks, warns Morningstar – MarketWatch
Report: UK single-breadwinner families need 27% boost in income – Guardian
How the UK's middle class savers are being dragged into a 55% pension tax trap – ThisIsMoney
Poorer parents contribute more than expected to plug student finance gap – Save the Student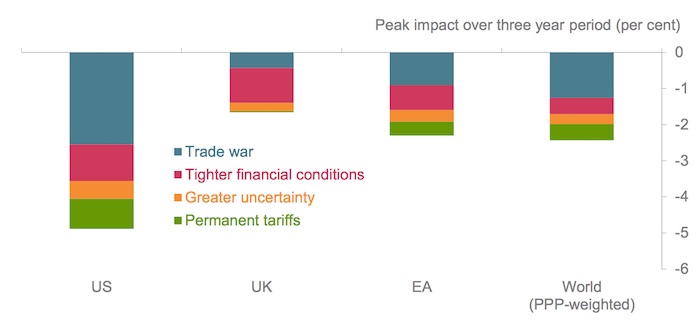 Bank of England warns on the impact to GDP of a full-blown US-led trade war [PDF] – BOE
Products and services
Buy-to-let lenders offering workarounds on tough affordability rules – ThisIsMoney
National Counties lifts rate on its top easy-access Classic Saver 4 to 1.35% – NCBS
Vanguard to enable free trading of most ETFs on its US platform [I'm not sure about UK?] – ETF.com
Ratesetter's free £100 bonus offer ends this month [Affiliate link] – Ratesetter
Marriage tax break could save £900, but one million couples are missing out – ThisIsMoney
Mini bond investors given hope by ombudsman ruling [Search result] – FT
Remember Thriva, the fancy blood test and app combo? It now enables you to add various personalized tests to your subscription, from testosterone to thyroid function. You get 50% off your first test (and I get £10) if you try via this link – Thriva
How much does a garden cost? £27,000 on average, apparently – ThisIsMoney
In pictures: Homes with air conditioning – Guardian
Comment and opinion
The privilege of knowledge – Of Dollars and Data
ETF industry has reached maturation without maturing – Bloomberg
Supply and demand: One reason it's harder to beat the markets than you think – Peter Lazaroff
The (evolution) of the investing pyramid [PDF] – Meb Faber
Help! My child's pension has hit the Lifetime Allowance roadblock [Search result] – FT
Trade war bark: Hold tight or nasty bite? – Investing Caffeine
P2P lending: A review of the market – Young FI Guy
Vanguard should offer a "total fund", with everything in it – Morningstar
The ideal scenario in retirement: Conservative returns, steady income – Financial Samurai
Made $650m? Here's how to keep it better than Johnny Depp (reportedly) – The Big Picture
Wealth is what you don't see – Fervent Finance
UK stock market valuation and forecast – UK Value Investor
Is volatility risk? – Behavioural Investment
Larry Swedroe: Dividend policy and stock returns [Research precis] – ETF.com
The new glide path [Using momentum to reduce sequence of returns risk, research, nerdy] – Flirting with Models
Kindle book bargains
Weapons of Math Destruction: How Big Data Increases Inequality and Threatens Democracy by Cathy O'Neil – £1.99 on Kindle
Einstein: His Life and Universe by Walter Isaacson – £0.99 on Kindle
Made to Stick: Why some ideas take hold and others come unstuck by Chip and Dan Heath – £1.99 on Kindle
The Honourable Company: History of the English East India Company by John Keay – £1.99 on Kindle
Moon Over Soho: The Second Rivers of London novel by Ben Aaronovitch – £0.99 on Kindle
Brexit
Theresa May's struggle to protect trading links with EU after Brexit [Search result] – FT
Airbus chief: Government has no clue how to execute Brexit without harm – Guardian
Martin Wolf: The irremediable folly of a 'no deal' Brexit [Search result] – FT
Ongoing Brexit cost calculator [Nearly £47 billion so far] – Brexit cost calculator
Off our beat
Fitness trackers prove England taking penalties isn't good for your heart – via Twitter
You decide: Would you let a car determine who dies? – ABC News
For the first time more than 200,000 flights are tracked in one day – via Twitter
Red-hot planet: All-time heat records set across the globe – Washington Post
I've only just discovered this silly word pronunciation 'guide' – YouTube
And finally…
"If wealth is defined as funded contentment, then we need to know what we're supposed to be funding."
– Brian Portnoy, The Geometry of Wealth: How To Shape A Life Of Money And Meaning
Like these links? Subscribe to get them every Friday!
Note some articles can only be accessed through the search results if you're using PC/desktop view (from mobile/tablet view they bring up the firewall/subscription page). To circumvent, switch your mobile browser to use the desktop view. On Chrome for Android: press the menu button followed by "Request Desktop Site". [↩]