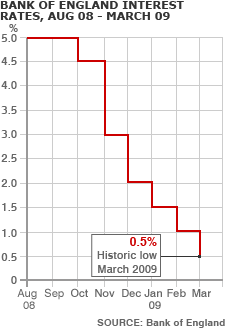 With UK interest rates now down to 0.5% [1] and the dubious-sounding quantitative easing [2] moving from a standing joke to official Bank of England policy, there's no doubt we're living through enduring historic times.
If like me you ever wondered what it was like to work through the 1970s Winter of Discontent, let alone the Great Depression, you may soon be repenting your curiosity at your leisure.
Only today we learn that the UK Government is upping its stake in Lloyds [3] (a company whose shares I once prized for their stability, before selling prior to the HBOS merger) to 65%, in return for insuring £260 billion of toxic debt.
When a 200-year old bank has to be repeatedly bailed out by the Government, you know you should be keeping the newspapers for your grandkids.
Yet let's not get too downhearted.
For those still building up their savings for retirement (and I suspect that's most Monevator readers), low prices for assets are a net positive if the world doesn't end.
Warren Buffett has said this many times, and he said it again this week in his 2009 letter [4] to shareholders:
We enjoy such price declines if we have funds available to increase our positions. Long ago, Ben Graham taught me that "Price is what you pay; value is what you get." Whether we're talking about socks or stocks, I like buying quality merchandise when it is marked down.
"Funds available", eh Warren? Ah, but there's the rub.
I've been invested throughout most of the bear market [5], even as my income has been hit by some fun yet unprofitable side projects (not least, this very blog [6]!) and a slight drying up of the consultancy and freelance income that pays my bills.
My hope is that the renewed misery that pushed the FTSE 100 below 3,500 this week will last until April 6th, and the start of new ISA season.
I'll be putting in my full £7,200 ISA allowance [7] and keeping my faith in shares for the long-term.
As for the short term? Pick a number, any number…
From the blogs
Investing
Political Calculations shows how taxes have more impact on how many S&P 500 companies pay dividends [8] than recessions.
Daily Wealth thinks we'll need to wait a few years before a once-in-a-generation buying opportunity in stocks [9].
Dividend Growth Investor studies Warren Buffett's 2009 letter [4] to shareholders for clues about dividends [10].
Still not convinced by passive investing in an index [11] fund? Here's a great analogy [12] from The Oblivious Investor that might win you over.
Personal finance
MainStreet explains why bartering is becoming more acceptable [13] in the new economy.
Get Rich Slowly discusses lifestyle inflation (how you can still feel poor on $250,000 a year [14]).
Should you make over-payments to your mortgage monthly or with a lump sum [15], asks No Debt Plan?
FiveCentNickel has a cute post up about being reminded to visualize his money goals [16] by his son.
MoneyNing thinks there are 19 ways laziness is costing you money [17].
Business and politics
10 great Fortune 500 companies started with nothing [18], explains BusinessPundit.
Does respecting individual rights promote prosperity [19]? Thinking on the Margin has found some graphs that suggests so.
From UK newspapers and mainstream websites
Matthew Vincent in the FT makes a throwaway comment that London-listed funds of hedge funds are delivering 20% returns [20] in 2009 as hedge funds throw in the towel and are wound up at NAV.
Fidelity legend Anthony Bolton [21] looks back at who's to blame for banking's mistakes.
Mark Dampier in The Independent [22] still likes corporate bonds (an asset I'm currently covering in detail my series on investing in corporate bonds [23]) but the editor makes a case for dividends [24].
Sticking with The Independent, Saturday columnist Derek Pain discusses the renewed vogue for rights issues [25].
The Times debates whether building societies really are a safer home [26] for your money.
A gang of pensioners has been convicted of running Britain's biggest counterfeiting operation [27], reports The Telegraph.
The BBC's financial action man Robert Peston is in China, which he points out is still buying the world [28].
This last story about a chemist who started his own stimulus plan by handing out $16,000 [29] is from a newspaper in Alabama, but it's too sweet to miss!
Did you find this roundup useful? Simple subscribe [30] to Monevator via email or RSS (it's totally free) and get my best links every week. Less time surfing, more time enjoying the weekend!