What caught my eye this week.
For various reasons (none of them unpleasant) I'm having a bit of a busy time of it at the moment.
Hence we'll crack straight into the links this week.
Cheers for checking in, and have a great weekend!
From Monevator
Eek! Like I said, it was a mad busy week… – Nothing new on Monevator. The horror!
From the archive-ator: Investing lessons from a card-based strategy game – Monevator [1]
News
Note: Some links are Google search results – in PC/desktop view these enable you to click through to read the piece without being a paid subscriber.1 [2]
Watchdog says you can move your final salary pension, even if advised not to – Telegraph [3]
Investing in alternative strategies is out of favour – Investment News [4]
Barking dogs and CCTV the best deterrent, ex-burglars tell Co-Op – Guardian [5]
Tax-dodging landlords find the net is closing in [Search result] – FT [6]
One of the world's few lucrative black boxes loaded up on Trump election – Bloomberg [7]
West Sussex named the best place in UK to retire to – ThisIsMoney [8]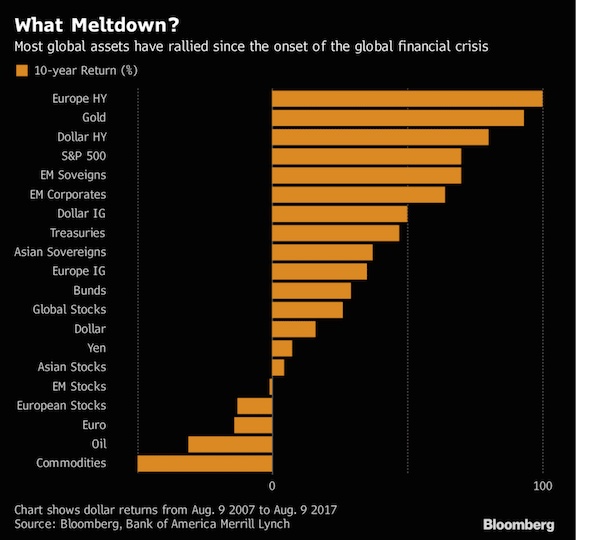 Surprise! European junk bonds have been the best performing asset since the financial crisis erupted in 2007 – Bloomberg [9]
Products and services
Best student bank accounts for 2017's freshers – ThisIsMoney [10]
Where to find inflation-beating cash savings accounts [Search result] – FT [11]
The pros and cons of buying a Beckham-style nature swimming pond – ThisIsMoney [12]
NS&I's first Junior ISA pays 2%, but there are better options out there – ThisIsMoney [13]
You can get a £50 bonus if you invest £1,000 with RateSetter for a year – RateSetter [14]
Comment and opinion
Worried about the markets? Some crisp thinking about risk – Humble Dollar [15]
Seven strategies for investing at market peaks – Ben Carlson [16]
Invert. Always invert – Above the Market [17]
Business vs investing, with Jason Zweig and Morgan Housel [Podcast] – T.I.F.G. [18]
From zero to wealth in two years with AirBnb – Mr Money Mustache [19]
An annual rebalancing Excel calculator – Retirement Investing Today [20]
Worrying about risk can be very risky – A Teachable Moment [21]
Are index funds too soft on CEOs? – Morningstar [22]
Amazon: Is this the end for old-school retailers? – The Value Perspective [23]
Do dividend stock funds belong in your portfolio? – Oblivious Investor [24]
War: Time to buy or sell? – Fire V London [25]
Willfully ignorant about pensions – SexHealthMoneyDeath [26]
Save money on car insurance – The Escape Artist [27]
A deep dive into the US corporate bond market, for the curious – Gordian Advisors [28]
Your bond fund could be riskier than it looks – Morningstar [29]
The rate of return on everything: 1870-2015 [Research, PDF] – NBER [30]
[Riffing on above] Housing for the long run? [Search result] – FT [31]
Off our beat
Get fit with accountability – Early Retirement Guy [32]
"Ten years after the crash, there's barely suppressed civil war in Britain" – Guardian [33]
"I've seen Raiders of the Lost Ark, and I wasn't confused by it." – Tina Fey [34]
And finally…
"Today, in our society, in economics, and in finance, we place far too much trust in numbers. Numbers are not reality . At best, they are a pale reflection of reality. At worst, they're a gross distortion of the truths we seek to measure."
– John Bogle, Enough [35]
Like these links? Subscribe [36] to get them every Friday!
Note some articles can only be accessed through the search results if you're using PC/desktop view (from mobile/tablet view they bring up the firewall/subscription page). To circumvent, switch your mobile browser to use the desktop view. On Chrome for Android: press the menu button followed by "Request Desktop Site". [↩ [38]]